As part of my Pays d'Oc wine adventure, a meal at Michelin-starred restaurant La Table de Saint Crescent and at Domaine Gayda happened to be on the cards as well as a very stylish stay at Château St Pierre de Serjac in Puissalicon and a quirky overnight at a barge/hotel.
A Michelin meal at La Table Saint Crescent
The
restaurant La Table Saint Crescent( part of a former oratory from the
Middle Ages) opened its doors for the first time in 1995 after a major
refurbishment.  The imposing building is located on the outskirts of
Narbonne, a town full of history, along with the Canal de la Robine.
Since
2008, when Chef Lionel Giraud took over the management of the kitchen,
we were told that over the years the place has been continually
refurbished, but always in keeping with the building's architectural
history. The dining room is modern, light, airy and elegant. The service
was when we visited was exceptional and very knowledgeable.
Our dishes and wine were perfectly matched with Pays D'Oc wines below:
Pays D'Oc wines served with our meal at La Table Saint Crescent
Mackerel in three citrus potato – liquid centre explosion of citrus juice
Dry olive, fruits and citrous sphere that was another fun explosion eat!
Crisp tapioca very finely sliced  monkfish chicks , sesame oil, wood vines on top
Pays d'Oc wine with our starters
Fish soup  – I loved it!  Super filling, very tasty and so pretty
Well, what can I say I ate almost all before taking the picture It was amazing!  Celeriac remoulade coffee from Ethiopia nuts mushroom and mustard leaf croutons
Lobster, Cabbage,  local fortified sweet red wine (Banyuls) reduction – This dish was paired with a full bodies red wine from Pays d'Oc –  – Yes, seafood and red wine and it worked a treat!
Palate cleanser : citrous meringue – refreshing and I thought that was dessert ….
Dessert: Light citrus ice cream with chocolate crumble and dark chocolate mousse berries and edible flowers – Chocolate is always a good idea!  a beauty of dish and delicious!
I really enjoyed this Michelin meal – highly recommended.
La Table de Saint Crescent in Narbonne
T: +33 4 68 41 37 37
www.la-table-saint-crescent.com
Dinner at Domaine Gayda in Brugairolles with Pays D'Oc wines
Located about 20km from Carcassonne, Chef Jean-Christophe Gille is serving delightful food in a very welcoming atmosphere with stylish decor and stunning views of the organic vineyards.   We were taken around the cellars by  Tim Ford, co-owner of  Domaine Gayda,  and his fabulous wife, Barbara.  We heard so many interesting histories of how they met, how Tim end up in Africa and Barbara eventually followed him.  I could've stayed at that table hearing the history of the Domaine and their own stories for days. It was a great dinner with fantastic food and great company.  I love learning and hearing the behind the scenes facts and anecdotes from the  wine producers.
The restaurant is beautifully decorated, quite modern and very spacious. Service was cordial. I was told they have a huge New Years Eve party every year.
The meal 
All made in the premisses and look that branded butter
Pea soup and wasabi- light and refreshing
Brandade  and pickled onion – Brandade is a
emulsion of salt cod and olive oil this one had a sharp pickled onion on top – nice touch
Foie gras lentils bacon, Toast and cream horseradish paired with Gayda  Chenin Blanc – The sweet and sour of the wine cut through the fatty and delectable Foie and being a lentil lover I  really enjoyed this dish. Never thought of the combination of lentil, bacon and foie – always learning something different.
Mushroom and  Hazelnuts, cod,  fish eggs and mash olive oil – that mash potato was a dream… not for the fainted hearted.
Local beef, potato fondant, ceps and  celeriac paired with Cabernet Franc- Figure Libre 2015 – the wine cherry, cassis notes and spices. Elegant, full-bodied and perfect pairing with this hearty meat dish.
Apple chestnut cream (Creme de Marron) apple compote  and French toast nice looking dessert!
Cheeses: Comte,  bethmale, ewe coulommiers and quince – I enjoyed the local cheeses.

This place is a wine and food  lovers dream!
Domaine Gayda
Chemin de Moscou
11300 Brugairolles
Phone: +33(0)4 68 20 65 87
Email: info@maisongayda.com
Stylish stays in the Languedoc-Roussillon to explore Pays D'Oc wines
Château St Pierre de Serjac in Puissalicon
Who wants to stay in a Château? A majestic Château estate overlooking its working vineyards, it features a hotel, a restaurant, a spa and luxury self-catering properties set in 200 acres of beautiful Mediterranean countryside in the Languedoc, South of France. The property has self-catering properties with private terraces and gardens, and some even come with private heated swimming pools.
There's also a very swish restaurant and bar in the property serving Pays d'Oc wines too.  A very beautiful , stylish and peaceful place to stay in the region.
An underground cellar in the Chateau – Yes please!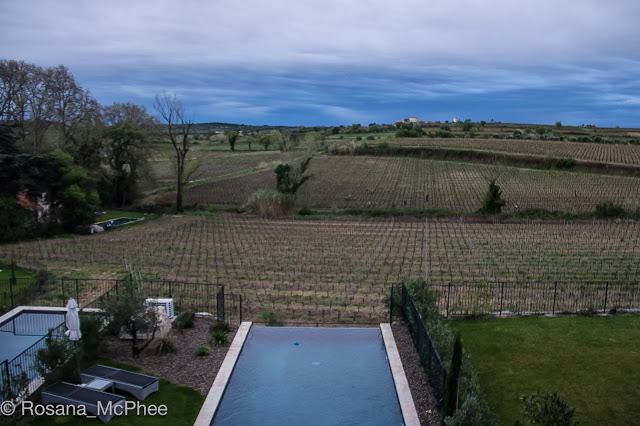 Infinity pool overlooking the vineyard
My room
The view from my room
The restaurant at Château St Pierre de Serjac
Foie Gras, cherry and green apple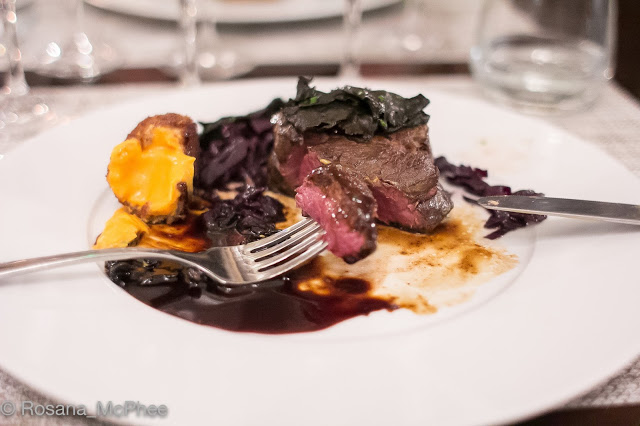 Juicy and tender beef tenderloin very nicely cooked for my taste
Alphonsia Maria Barge – chambres & tables d'hotes  in Villeneuve-lès-Maguelone
The barge is almost a hundred years old, it's  an authentic Dutch vessel of 110 feet long. It was built in 1913 in the Netherlands and remained in service until 1998.
In its heyday,  it transported cereals along the small canals all over Northern Europe. Over the past 90 years, the ship has gone through various transformations. First, Alphonsia Maria was built as a sailing boat. However, in 1926, the main mast was taken down and replaced by an engine. Nowadays it's been modernised and is privately owned. It's used as unique accommodation with 4 bedrooms owned and catered by Yann LABAT.
The barge is quite comfortable and very well equipped with all modern amenities.
If you like quirky and different place to stay with charm this is a place for you! I loved it.
They provide wi-fi, bicycles, fishing rods, balls of petanque and canoes as well as breakfast and evening meals. There is also a 150 sqm terrace with a swimming pool, solarium, couch and an outdoor dining area.
We had a Pays D'Oc wine tasting on the deck overlooking the Canal Du Midi with a splendid sunset as the background.  What could be more perfect? The local oysters for the aperitif were caught that morning just a few kilometres away.
The evening menu costs €28 and includes an aperitif, appetiser, entree,  and dessert (wine and coffee)
Lunch from €15: Live oyster tasting, from the Bassin de Thau, delivered daily by the producer, salads and a board of prawns.
Transfers to airport or train station from €25.
I stayed in the "Madame Marguerite" room with a modern shower room including an excellent hair dryer!
(all prices 2017)
Alphonsia Maria Barge
(nearest city Montpellier : 10 km)
contact@alphonsiamaria.fr
t: +33 (0) 695827441
Disclosure: I was a guest of Pays D'Oc IGP. All opinions are my own.
Save