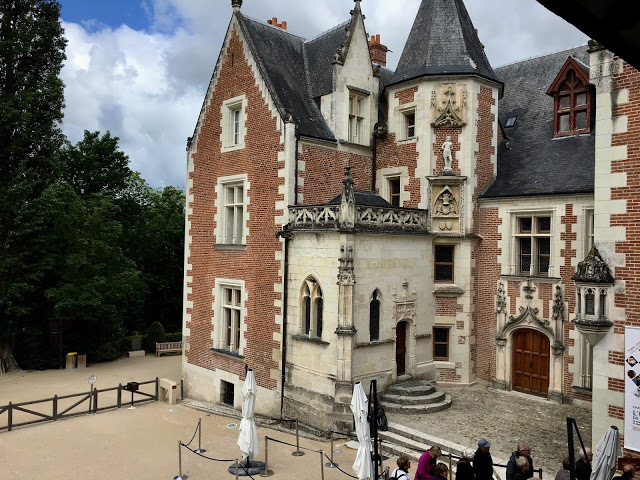 Château du Clos Lucé
Next stop in the Loire Valley was Château du Clos Lucé. It was a very educational insight into history as well as a Renaissance-like gastronomic experience. I was amazed by the Leonard Da Vinci Park, it really brings his legacy to life.
History of Château du Clos Lucé
The Amboise family formerly owned the Chateau but between 1214 – 1417, the Cistercians of Monce were given free reign over the land by the family. The pink brick and the freestone domain that you can admire today was initially built for Louis XI in 1471. The king offered it to Etienne Le Loup, an otherwise ordinary kitchen man. By then the chateau was surrounded by tall walls. In 1490, Charles VIII bought the place to use as a summer residence for all the kings.
The King modified the fortress into a castle for entertainment and pleasure. He built an oratory, a gift for his wife, Queen Anne de Bretagne. At the time, the dukes and kings of the land spent a lot of time in Clos Lucé in Amboise.
At the end of the 17th century, the castle changed its name from Château du Clouxis to Château du Clos Lucé. During the revolution, the Amboise family managed to save it from destruction only to become later part of the Saint Bris family.

Château du Clos Lucé – The Kitchen
The Château and Leonardo Da Vinci
King Francis I had appreciated the talent of Leonardo da Vinci for quite
some time and so between 1516 – 1519, da Vinci came to live at the Château du Clos Lucé at the invitation of the King. At the age of 64, da
Vinci along with his friends, Francesco Melzi and Battista de Villanis
travelled by mule through the Alps. With him, he carried some of his
most favourite paintings; the Mona Lisa, the Virgin and Child and, of
course, John the Baptist. He also brought along very important notes and
sketches. Leonardo da Vinci would stay at the Château until his death 3
years later.
Leonardo da Vinci chose to spend his last days
here for a reason. Its stunning beauty along with its strong sense of
history affected him on a whole other level.
Leonardo Da Vinci Park
If you admire and understand the work of da Vinci, you are probably familiar with his paintings and sketches of this place. You can walk along the same paths that da Vinci took when he was living there. Trees, plants, and lots of moving water set the amazing scenery, along with rocks, caves and waterfalls. Leonardo Da Vinci was an Italian polymath whose areas of interest included invention, painting, sculpture, architecture, science, music and more! Here at the Château du Clos Lucé, he worked on innovative designs and architectural sketches that unfortunately didn't come to fruition due to his death.
You will be amazed when you will find yourself among the old pines by the pond. Here, you can find Madonna lilies, horned violets and the renowned, Mona Lisa Rose. A visit to Château du Clos Lucé is without a doubt a trip not to be missed by anyone who appreciates and admires the work of Leonardo da Vinci.
A meal at L'Auberge du Prieuré

The Auberge du Prieuré is a dining experience like no other! Situated in the garden, its Renaissance decorated rooms take you back to Leonard Da Vinci time through a 3-course Renaissance that can also be enjoyed outside on its shaded terrace, weather permitting.


We started with a choice of Renaissance wines in that time they used spices to preserve the wine for longer. Red wine spiced with cinnamon, lovage, cloves and sugar and white is sage wine, mint, sugar and pepper.
herb flan and green salad
Puree of carrots and Poularde
Pear in spiced wine

Château du Clos Lucé

2 Rue du Clos Luce, Ambroise, France

Hours: Open daily, closed December 25 and January 1

A brief video about my visit to Château du Clos Lucé:
Disclosure: I was a guest of Château Clos Lucé as part of press trip organised by Atoutfrance. All views are my own.