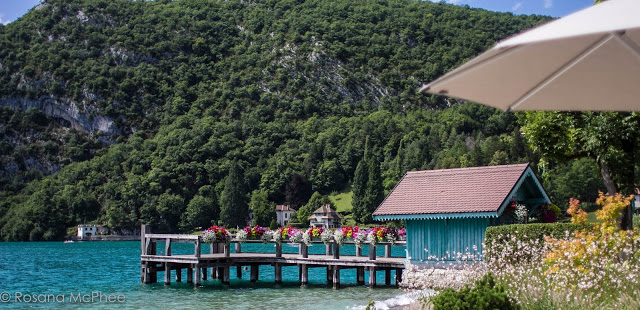 Talloires by Lake Annecy
If you are in the mood for a break and enjoy some rest from a hectic schedule, I suggest a visit to Savoie Mont Blanc in the French Alps. With its spectacular natural landscapes, legendary mountains, and fantastic attractions, I was constantly amazed on this trip.  There is plenty to discover amongst the lakes and mountains; it's the best of both worlds. Spring has the ideal weather and beautiful time of the year to visit Savoie Mont Blanc.
The region of Savoie Mont Blanc
Lake Annecy
The natural environment of this place is stunning!  There is the  Vanoise National Park, and the two Regional Nature Parks of the Bauges, Massif and Chartreuse are among Savoie Mont Blanc's 14 Nature Reserves spread throughout the territory.  The sheer grandeur of the land leads to the people of Savoire to look after their natural heritage.
Most of its resorts and hotels are equipped with wellness areas, making it a truly ideal destination for rejuvenation.  A list of activities in the region includes cycling, paragliding, climbing, diving, sailing, endless water sports (thanks to astonishing lakes in the area), golf,  and of course skiing!
This region also has an exceptionally high number of Michelin starred chefs. A paradise for cheese lovers with 5 AOC's for its cheeses (Reblochon, Beaufort,  Abondance, Tome des Baugesand and Chevrotin), 2 PGI's for Tomme de Savoie and  Emmental.
Talloires and Annecy
Annecy
Annecy
Annecy
best ice cream in France at the Glacier des Alpes in Annecy
Annecy took my breath away – think of smaller scale Venice!
It is touted to be one of the oldest inhabited sites in the Northern region. Recent digs have dated the village, which has been identified off the bank at Annecy-le-Vieux at 3,100 years before Christ! Thomas-Dominique Ruphy drew up the town plan in 1793, which was revolutionary in its day. A wide rectilinear road on the main traffic routes was designed to divert circulation from the historic city centre. There are plenty of activities to be entertained with in Annecy like cycling, paddling on the Lake Annecy, strolling across canals, shopping in the local markets, sampling delicious raclette, or spending the day just walking around this beautiful town.
We stopped at Talloires, a lovely village situated on the shores of Lake Annecy.   A visit to Pere Bise Hotel and Restaurant is a must! There you can marvel at the opulence and luxury, and then go for a bite to eat at the restaurant overseen by Chef Jean Sulpice, who came to greet us just after a fantastic lunch her prepared for us – look at the views!
Talloires by Lake Annecy, Auberge du Pere Bise
Auberge du Pere Bise
Auberge du Pere Bise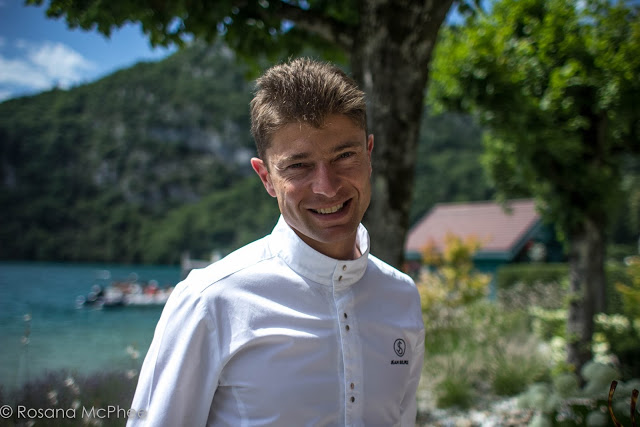 Chef Jean Sulpice, two Michelin stars holder, the the youngest chef in history to receive Michelin star at the age of 26
Lunch at Pere Bise by Chef Jean Sulpice
Lunch at Pere Bise by Chef Jean Sulpice – beautiful sourdough
Little nibbles before the amazing lunch: Crayfish with Agastach herb  (off picture)
Frog with garlic and parsley (off picture)
Crisp potatoes with trout eggs
Cheek beef and beet root
Herbs tartar
Egg with crayfish and Saffron- what way to start light mix of eggs, whipped egg whites and crayfish with a hint of Saffron in the background giving an amazing colour  to the dish
Pike, sorrel and vanilla, a light, fresh and  flavoursome dish
Quail's eggs, cucumber aspic, smoked lake fish and oxalis (local wood sorrel), such a beautiful arty plate-up  and the taste  and lightness were stunning.
And the waitress brought the beef smoked with juniper berry in the pot
beef smoked with juniper berry on the plate, beautifully presented and very juice meat with herbs and edible flowers
Beaufort (cheese) mousse and  alpine spirit, the cheese dish was spectacular, again light and the cheese reminded me of gruyère. Something that I would love to reproduce at home!
rich, textural and delicious chocolate and blackcurrant served with parsley sorbet which was pretty fantastic!
chocolate and blackcurrant parsley sorbet
The lake scenery is magnificent with its views of the mountains, the Chateau de Duingt and the villages dotted around the lake.  Next, we crossed the lake, on a boat, to walk around the beautiful town of Annecy.
The hills above the village and lake are topped by at the height of craggy rocks called the Dents de Lanfon. Activities in the lake include stand up paddling, water skiing, diving, canyoning, paragliding and swimming.
Chambéry
Chambéry
The historic capital of Savoie, Chambéry has plenty of art and history to offer with its mysterious lanes and many covered passages, mansions, Trompe-l'oeil facades, charming internal courtyards, Saint-François-de-Sales cathedral, a castle – the former residence of the Dukes of the Savoie – pedestrian streets and the famous Elephants Fountain.
  Chambéry
Visit the Savoie museum to check out exhibiting archaeological and ethnographical collections and the Saint-Léger square to stroll or sip coffee at a café. For lovers of water sports, Chambéry benefits from the proximity of two natural lakes: the Bourget Lake, the largest natural lake in France, and the Aiguebelette Lake, which has dazzling emerald coloured water. There are a few sailing and fishing ports around as well.
Amazing architecture in Chambéry
Trompe-l'oeil facades in Chambéry
Trompe-l'oeil facades in Chambéry
Walking around  Chambéry
Walking around  Chambéry
Walking around  Chambéry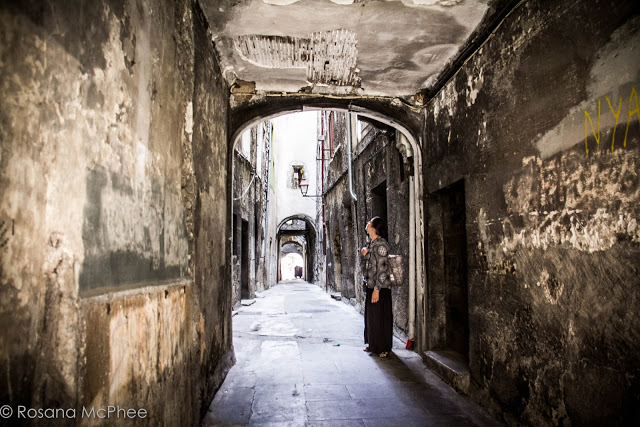 Walking around  Chambéry
Indoor food market in  Chambéry
Sun and water sports in Le Bourget du Lac
Until next time why not join me on  Instagram, Twitter and Facebook…X
PIn for later:
Disclosure: I was a guest of Savoie-Mont-Blanc Tourism Board  for review purposes. All views are my own.
Save