Hondarribia, or Fuenterrabía in the local language, is a charming and vibrant fishing village renowned for its phenomenal culinary choices, as well as its remarkable architectural sights. The gastronomy in Hondarribia offers both the taste and looks to impress, and is sure to satisfy even the harshest of critics. The memories you form filling your stomach with quality cuisine and breathing in the fresh coastal air will make Hondarribia your favourite holiday spot in the area.
The gastronomical world in this little town has witnessed an enormous transformation recently, and it's noticeable in the cuisine. The quality matches, if not surpasses, the finesse and tastes found in San Sebastian, which is considered by most as the Basque hub for culinary enjoyment.
Only recently has Hondarribia become a must-see attraction for visitors to the area so that you won't find many touristy elements such as a street full of monotonous souvenir shops. Tourists trying to enjoy an authentic experience have access to plenty of different restaurants and pintxo bars all across the town, all of which produce only the best food and drinks.  Not only is the quality of these establishments something to look forward to, but the incredible prices. The value is fantastic and makes this fishing village a hotspot you can't miss.
The cuisine of Hondarribia isn't the only aspect of the town that'll impress tourists. The village is enclosed in a beautiful, fortified wall, the only one of its kind in the entire Guipuzcoa province. Basque architecture ornaments the entirety of the Old Town, with homes decorated with vibrantly coloured wooden balconies. Architecture enthusiasts will also be delighted to see some baroque-style buildings interspersed between them. The intimate, cobbled streets of the area are truly inviting, and you'll find yourself strolling through them for hours.
The Marina neighbourhood is also a must-see attraction in the town. It's adorned with a multitude of restaurants and bars, and you'll find Hondarribia's most popular establishments here. The main pedestrian road crosses through Marina neighbourhood, so you can search for a place to enjoy some Basque cuisine while walking alongside a lovely tree line and homes.
If, for some reason, you get tired of the myriad of eateries and cultural sights, venture onto the sandy beach. This long, 800-metre attraction offers quiet waters and space for tourists and locals alike to enjoy the sun and relax throughout the day.
 Gastronomical Wonder:  Michelin start Restaurant Alameda
Originally a local snack bar known only to select locals, Restaurant Alameda has become Hondarribia's premier, Michelin star establishment. It's family-run by the Txapartegi brothers, called Gorka, Kepa, and Mikel.
Using raw ingredients is the staple of this restaurant, as well as the locally sourced product. The brothers offer irresistible dishes that are both high in quality and just stunning, and perhaps the most fetching aspect is that the food pays homage to its Basque roots while accommodating modern trends.
If you're walking towards Old Town, you'll notice Restaurant Alameda instantly, as it lies merely a few steps away from the Santa María Gate. The ambience is cosy and trendy, minimalist design, as well as a collection of stunning art done by local Hondarribia artists.
It's a Michelin star restaurant so expect stunning presentation and fantastic colours and textures delivered in every single plate! And  yes, they do!
Fantastic service and setting at Alameda.  First of all, let me tell you how easy it was to book, a single phone call two weeks before and Bianca, who speaks perfect English booked me in, no hassle.
I visited on a Saturday winter's day in February. The sun was out, but the air was cold and crisp.  I arrived one hour earlier to the little fishing Village of Hondarribia, Basque Country, about 30 minutes by car or bus from Centre of San Sebastian. I must say it was worth all the travelling and a walk around the village is a must!
The walk before and after lunch was entirely different before lunch was a leisurely stroll by the seashore and after lunch as a walk around the old town. It's like walking into an old fairytale book. Breathtaking!
Once I arrived, I was welcomed by Bianca who was the perfect hostess.  She introduces me to the local wine in their beautiful bar frequented by locals for small snacks and excellent wines. After my drink, I settled at my table that overlooked their garden. The waiter and sommelier explained all dishes, ingredients and drinks as the lunch progressed.
At the moment, they have two tasting menus. I was set to have the six dishes tasting menu, but when I got there I decided that after all the travelling I should have the ten dishes menu –  It would be rude not to! Here is my 4 hours tasting menu  – Epic!
Lunch at Alameda –  Michelin Tasting Menu
Appetiser : Chocolate & Foie gras  and carrot cream
Appetiser : Chocolate & Foie gras  and carrot cream
It looks like a bonbon, Chocolate and Foie gras is a combination from heaven, topped with hazelnut –  the way forward! The carrot cream and cod foam (at the back)  was  light and simply delicious
Gillardeau oyster with Txakoli
Parsley air, oyster, sparkling wine, apple and citrus cream
I ate air, and it is very palatable. The plump oyster was of a splendid size and so fresh! Perfect match to the high acidity of the local dry sparkling wine (Txakoli ) in the recipe and my glass.
Scallop carpaccio
Scallop carpaccio on a bed of tomato tartare almond cream – scallop Topped with ovas de truta (trout eggs)  bursting with flavours and textures – brilliant dish
Mushrooms with truffled yolk
Roasted local mushrooms truffled mash and white truffle cream  with sous vide yolk  matched with  Castell de Raimat Chardonnay 2015 wine with hint of
tropical fruits sweet note of  pineapple  pale yellow with hints of light green hue
Roasted foie
Foie gras beetroot orange and grapefruit
seared foie with creamers beets and grapefruit cutting through the fat beautifully matched with Ximénez Spínola Exceptional Harvest, not officially a sherry, but a kind of vendange tardive white wine, made with grapes that are picked overripe after 21 days on the vine. Then the wine is aged on its lees (with light batonnage) in used American oak barrels over a four-month period. It was first made in 2010 (designed by the winemaker Ramiro Ibañez Espinar) with subsequent versions each year.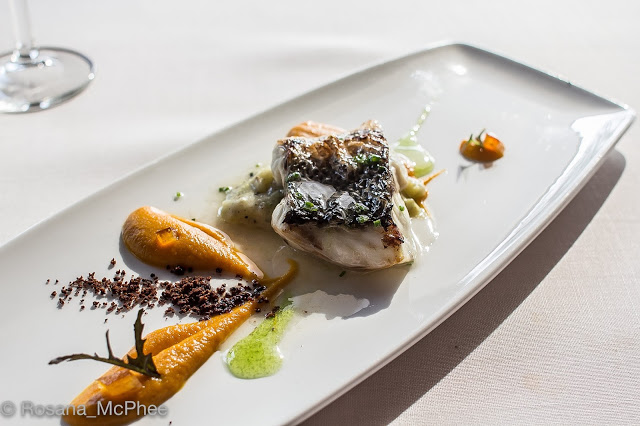 Sea bass – fish of the day
Sea bass , olive sand and curry carrot orange cream leeks purée, this dish was light and very fresh, this dish changes according to what is in season and fresh from the boat in the morning.
Butakaku
Butakaku pork Jawl (braised) rich and scullent,  black beans, cabbage and leeks  – this dish remind me of Brazil, beans, pork and cabbage (greens)  – I love the gravy (sauce)
Mandarin Mousse, Rosemary Snow, Orange Granita –
very light citrus and refreshing – great palate cleanser.  PS: I though it was the dessert! how pretty is that?
Gartzinea tribute
A tribute to the building where the restaurant is located. Cider sorbet apple jelly apple granita, cream cheese and nuts, edible flowers tribute to house/ building that used to be a cider house, where the restaurant was being since 1940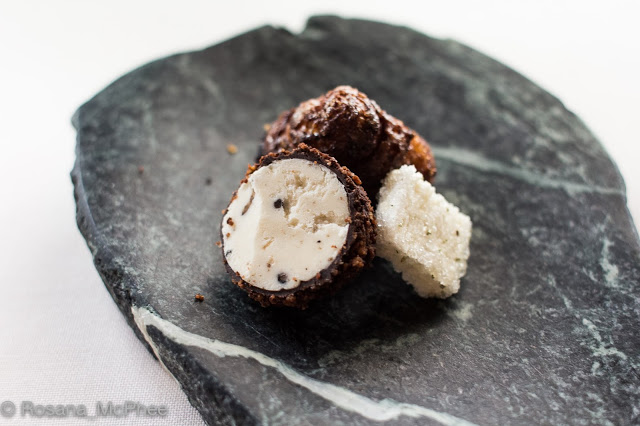 Petit fours
Petit fours – by now I was gasping for air – It was an outstanding and very long meal.  The care, the quality and techniques are all there. Best meal of 2017, outside the UK  so far!  Still a way to go…
It's one of the prettiest places I've traveled to!  I am contemplating going back to spend some time there. Worth every single minute of the trip and every single penny/euros.
Menu a la carte and tasting menus:
6 dishes menu 60euros  + flight of wine 27 euros (optional)
10 dishes menu 98 euros + flight of wine 39euros (optional)
(June 2017)
Read more about San Sebastian :  Hot&Chilli, A long weekend in San Sebastian
Until next time why not join me on  Instagram, Twitter and Facebook…X
Save