Back in the summer, I attended the Young Chef of the Year pop-up at M Restaurant in Victoria, London. This competition saw each finalist hold their own pop-up dinner at M Victoria Street. During dinner, judges and diners scored the young chef's performance and menu.
On August 4 was the turn of Chef Guillaume Dunos of La Ferme in Farringdon next to Exmouth market. I chose this evening based on the menu. 'Passionate about French cooking, Guillaume's menu includes slow-cooked lamb shoulder with figs and red mullet with aubergine dashi purée.' At first glance, it looked very creative and highlighted ingredients I like eating.
Unbeknownst to me, at the table next to ours was seated the staff of La Ferme, Chef Guillaume's work colleagues. They were fun and said hello. It was a great evening; we went home satisfied and happy. In the following months, I got an invite to visit La Ferme by Guillaume himself. What a treat!
La Ferme London is following a recent trend of French restaurants, which merges bistro, gastronomic, and fine-dining concepts. In essence, it is a relaxed fine-dining experience.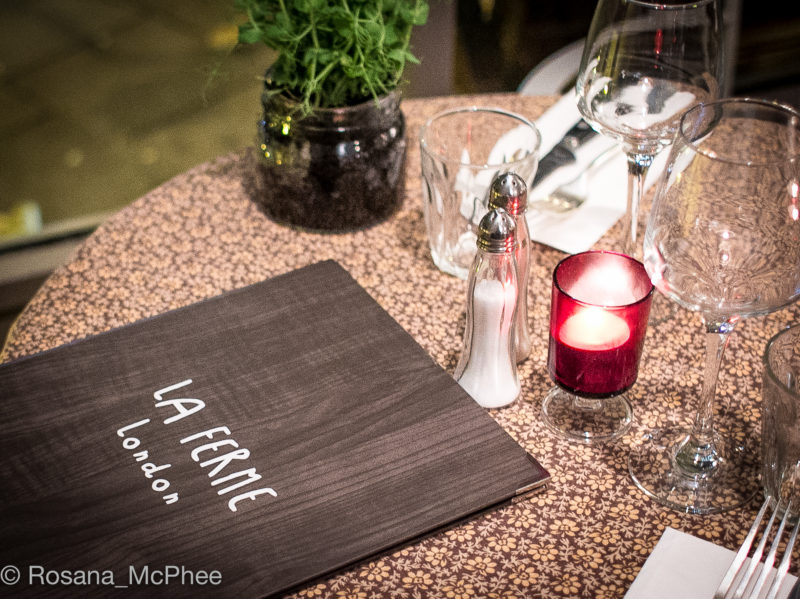 At La Ferme, which means 'The Farm' in French, the menu is both in French and English and is divided into plates to share—or not! The Menu du Marche, quick and straightforward bites, and Menu du Chef—that's where the real fun begins. Chef Guillaume showcases his passion and originality with lots of energy.
The starter was excellent, tasty and full of textures:
I really enjoyed sampling the Chef's menu at La Ferme. It's a mix of modern and traditional French cuisine, served in a homely and relaxed environment and on beautifully presented plates. Chef Guillaume sources seasonal and produce in France so that we can taste France on the plate in Farringdon. They have a small deli selling wines, foie, and fresh ingredients.
La Ferme is a delightful French corner in Farringdon serving good food, and its service is very friendly. I was told they are soon opening La Ferme in Hampstead. I can't wait to try that branch too!
104, 102 Farringdon Rd, London EC1R 3EA
Open for lunch and dinner Monday–Saturday
Disclosure: I was a guest at La Ferme London. All views are my own.