Braga
Braga
Braga, positioned in the centre of the Minho province, is an old and solemn town known for its baroque architecture and 18th centuries buildings. This north-western city is encompassed by rolling mountains and forests, an isolation befitting to its role as a previously central religious hub. Enjoy the alluring parks and gardens that are situated throughout the town, or the modern establishments that decorate the antique streets.
If you're around on Thursday mornings, you can take a look at Braga's weekly market, which is the largest in the region. You'll find an assortment of different items, from fresh fruits and vegetables to traditional pottery.
There are some local universities located in Braga, and it attracts a flurry of young people, making the city quite lively and dynamic. On the other hand, the town holds onto firmly to its religious history and is often called the "Portuguese Rome" for its devotion.
Walking around Braga
Palacio do Raio – late Baroque, early Rococo style
Sao Marcos Church
Street snack : castanhas  assadas ( roasted chestnut)
Café  A Brasileira
The café first opened in 1907, a franchise of the already existing cafés named the Brazilian by Adolpho de Azevedo, a Portuguese merchant and Vice-Counsel to Brazil. This new incarnation of the traditional establishment includes not just coffee beans, but also excellent wines from the Douro.  In order to attract customers to his wholesale coffee-shop, Azevedo maintained the custom from A Brasileira in Lisbon:  he offered a cup of coffee, with the purchase of 0.5 kilogrammes of coffee beans.
They serve local pastries as well as delicious cakes.
The regional pastry  with a recipe which is 100 years old: Jesuita – puff pastry + egg and sugar filling topped with thin layer of hard meringue
Cafe  A Brasileira
Largo do Barão de São Martinho 17,
4700 Braga, Portugal
A meal in Braga
Brac Restaurant
Located next to the oldest ruins in the city, it brings together the ancient and the contemporary to elegant effect. The architectural and interior design are excellent making a very special place to dine in Braga. Excellent service and very tasty meal. After the meal a look at the ruins is in order!
Miscaros grelhados – very large and delicious grilled mushrooms – love it!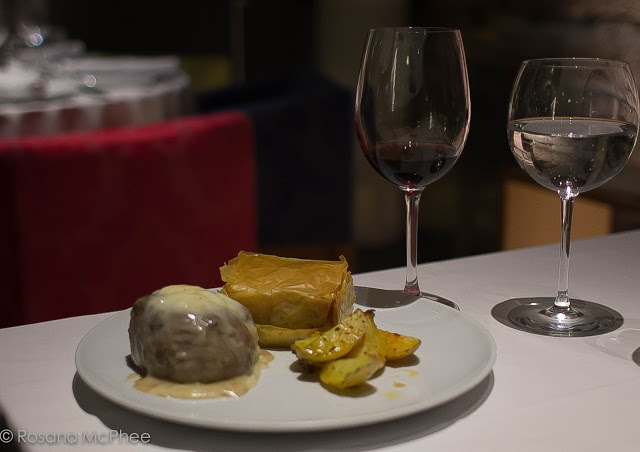 Naco de vitela com queijo da Serra – Juicy steak with regional melted mountain cheese very filling it really satiated my hunger!
Trio of sweet treats including a brigadeiro covered chocolate cake
Brac
Campo das Carvalheiras, 4700-419 Braga, Portugal
Bom Jesus do Monte Sanctuary
Bom Jesus do Monte
The church is situated on the outskirts of Braga, and you reach the church on foot; car; or tram, which is a prime example of fantastic 19th-century engineering. Unveiled in 1882, it still utilises a hydro-powered system to transport passengers 300 metres up the hill, all in merely three minutes.
The church itself was designed by Carlos Amarante in 1784, who was inspired by the Italian neo-classical style. Amarante incorporated the techniques of this distinct style and perfectly merged it with Braga's stunning landscape. The stairway that leads to the top displays seventeen landings that are ornamented with symbolic fountains, allegorical statues, and some other Baroque decorations. Once you appreciate the landings, you can turn and look up to face the extraordinary view towards the top.
Once inside the tranquil church, you'll notice Pedro Alexandrino's important 18th-century paintings. Also, just outside is the Museum of Confraria, which shares its vast collection of religious items, as well as a library first established in 1918.
A must-see if you are in the area.
Bom Jesus do Monte – Tenões
4700 Braga
T: +351 253 676 636
Guimarães – The Birthplace of Portugal
The city centre of Guimarães is truly historic, and has been declared as a UNESCO World Heritage site. Additionally, the city boasts its proud titles of being the birthplace of Portugal and the 2012 European Capital of Culture. Visit the magnificent 12th-century castle, once home to Portugal's first king, Afonso Henriques.
The centre, Largo da Oliveria, is a historic masterpiece, and has been preserved quite well by the city. Walk through the narrow streets and pass the beautifully decorated houses, all constructed in Medieval times and represents Guimarães's rich past.
A Unique Meal Experience in Guimarães
The city contains a remarkable establishment called the Pousada Mosteiro de Guimaraes, a hotel and restaurant with a rich history of its own. You can start your tour of Guimarães here and learn more about the city, or have an authentic meal to further experience the culture. Pousada Mosteiro is now part of the Small Luxury Hotels but formerly operated as a monastery owned by Queen Mafalda, King Afonso Henriques' wife. This truly inspiring building is located on Monte da Penha and was once a member of the Holy Canons of Saint Augustine back in the 12th century.
Our Meal 
Caldo Verde – it's a simple and so delicious very favourite soup  potatoes,  green cabbage,  olive oil and salt
Bacalhau (cod)  fresco a vapor com sua língua crocante, molho de cebolada acidulado cremoso de batata, couve e gel de azeitona – Steamed fresh codfish, with acidified onion sauce, mashed potatoes, cabbage and olives gel
trio of regional Portuguese treats : Pumpkin cake with Pomegranate, orange cake soaked in syrup and egg flan – very sweet and very decadent
Other dishes :
arroz malandrinho – seafood rice
Pousada Mosteiro de Guimaraes
Largo Domingos Leite de Castro
Lugar da Costa 4810-011
Guimarães Porto e Norte
Accommodation: I stayed at
Melia Braga Hotel & Spa
Av. Gen. Carrilho da Silva Pinto 8,
4715-380 Tenões, Braga, Portugal
meliabraga.com
PIN for Later
For more information about Northern Portugal, please head over to: Visit Porto and North
TAP airline Portuguese
National airline flies direct from London Gatwick to Porto twice daily;
prices start at £89 return including all taxes and surcharges. Visit www.flytap.com or call 0345 601 0932 (UK)
Until next time why not join me on  Instagram, Twitter and Facebook…X
Disclosure: I was a guest of Porto and Northern Portugal Tourism Board on this trip. All views are my own.
Save