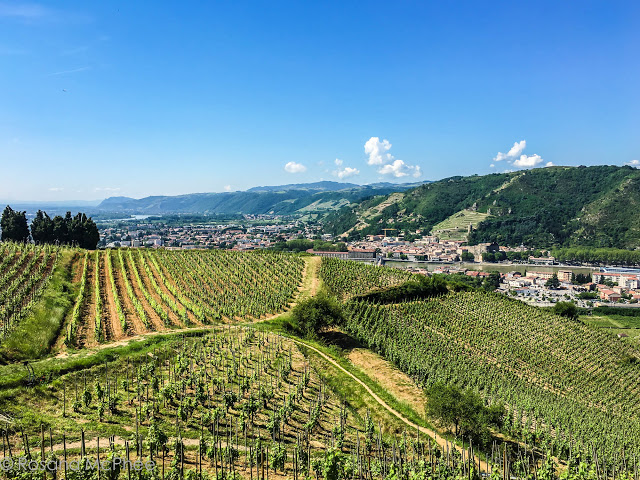 The Rhône region is divided into departments. I visited the Ardèche, Drôme, Gard, Vaucluse and the Rhone Valley vineyards over eight days on a fantastic road trip with a food and wine angle.
Here are my findings on the preparation for this incredible journey.
Weather and what to pack
Spring and summer is quite warm in the region, around 30-35C with a few welcome spring and refreshing showers.
Light and summery outfits will do the job. 2-3 day dresses, two shorts and/or bermudas, one pair of smart light trousers, a couple of smart dresses, a few tops and t-shirts, depending of course on how long you are going for. It's hot!
If you are going for an adventure sports holiday in the fantastic gorges dotted around the region in the Ardeche and Gard, caving, speleology or canoeing take an old pair of trainers and expect to leave them behind. They will get a beating, and wet, etc. However, it is all good fun!
Open shoes like sandals are a must, as well as flip flops, and a hat is a good idea too. Smart clothing for the more formal evenings dining at Michelin Star restaurants in the area are recommended – that is a thing in France, fabulous hidden gems can be found all over the place.
Most of the hotels I stayed at had swimming pools and offered beach towels, and there are plenty of rivers with crystalline waters to jump into. Which reminds me to add sun cream, factor 25+ and sunglasses. Did I say it is hot this time of the year?
They also provided a hairdryer, and if you are saving space in the suitcase, they also offer toiletries, so you do not need to pack yours, it is up to you.
Check if your accommodation has a car park, why? Read on….
TECHNICAL STUFF
Here is a list of all the usual tech stuff to pack for a road trip:
1) A big suitcase – I thought that my Samsonite was too big, and it turned out to be just perfect as I bought a few things to take home.
2) A medium bag – see below
3) Plug adaptors
4) Portable battery for iPhone/smartphone
5) Cables for the iPhones/smartphones connection to plugs, computer, iPad, etc.
6) IPad, fully charged
7) Laptop fully charged
8) Camera of choice together with all cables
9) Camera battery – fully loaded and spare one(s), just in case!
10) 2x Cards- I always take two just in case one gets corrupted. Also, you don't want to be caught short when you get carried away taking pictures.
11) Portable Wi-Fi – this time around I gambled and used my contract phone Wi-Fi, which worked most of the time, perhaps an improvement on the French side, as I have always suffered from the lack of Wi-Fi in the past. I will be looking to getting one though… I will update you when I do.
12) GPS – if you have one or use google maps app
13) Playlist
14) Documents: passport and driving license, any visas if needed
15) Bank cards
16) Cash (Euros)
17) First aid kit
Extra:
A small lid-tight container and small piece of kitchen towel
Why? If you go to the market on your last day, you will no doubt find truffles. They are much cheaper in France and to survive the journey back home, place it in the container together with damp kitchen towel. It will survive for a day in your luggage. Put it in the fridge or in a jar of olive oil straight away when you get home.
Getting Around
Public transport in rural France is almost impossible. A bit like in the UK, it's unreliable. You need a car to get around, it will be your best travel companion, so choose wisely. You will definitely need a GPS and air conditioning.
Hiring a car
At the car collection, the assistant helped me by showing me how everything worked in the car. I strongly advise that you ask for a quick demo if it's the first time renting a car in France. It saves a lot of grief. This was not my first time driving in France, but I thought it was a useful refresher.
The downside of driving is that you need to curb your enthusiasm when going to wine tasting. This region is wine country so I am afraid there will be a lot of spitting. The plus side is you can load the car with few bottles of wine to bring home. Some shops and wineries offer delivery to the UK, but not all of them.
The plus side of driving is the car, and its boot becomes your best friend. As you go along, the suitcase becomes heavier and heavier with stuff. By day 4 I was leaving the luggage in the trunk and just taking the necessary items like a change of clean clothes, toiletries, and any valuables to the room with me. Leaving the rest locked in the boot of the car in the hotel car park. That made life so much easier!
Tolls and gas
There are a few road tolls but don't worry they accept coins and cards.
Fueling the tank is easy, make sure you know what fuel your car takes and you won't have any problems. They have serviced and un-serviced gas stations everywhere. At the un-serviced stations, you just place your card in the machine, fuel your tank and the machine will give you a receipt. Quick and straightforward!
Water
Always carry water with you. Did I mention it is hot?!
Getting to The Rhône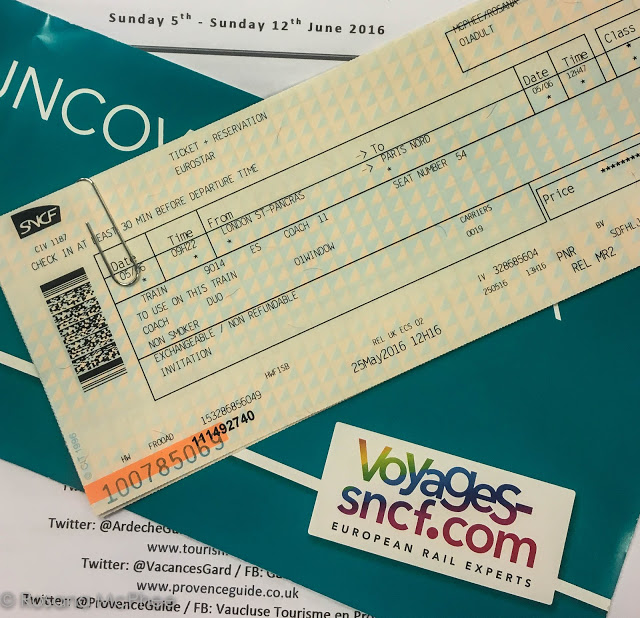 Flying is an option, but you might have noticed that I am a fan of
traveling by train. It's comfortable, easy access – less hassle, quick
check-in and it's possible to pack liquids like olive oils and wines
without the risk of confiscation. It's environmentally friendly and
offers great views of the countryside.
The other plus of traveling by train is the option of food on board pending on the ticket bought. You can buy food and drink of choice before boarding, or it might be included with your ticket fare.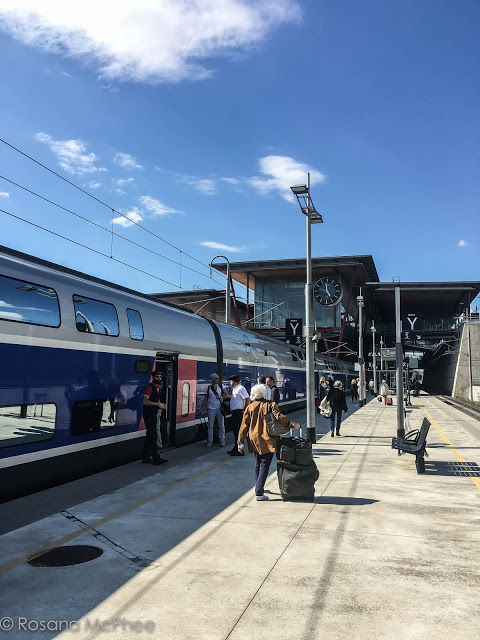 Valence TGV station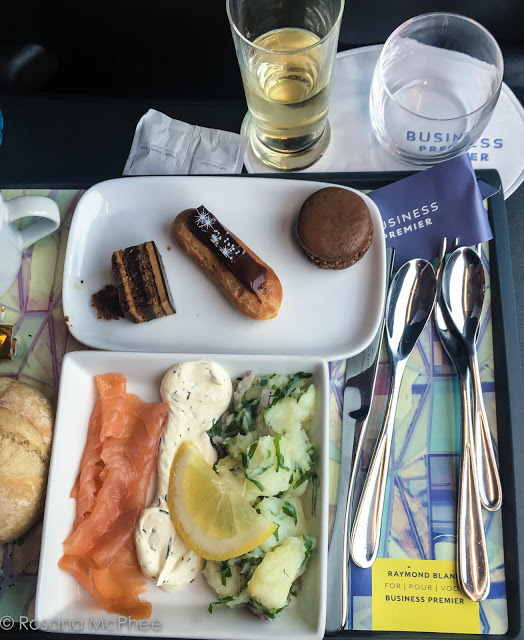 Train tickets to the Rhone can be purchased through Voyages-sncf.com. SNCF is France's national state-owned railway company and manages the rail traffic in France and the Principality of Monaco. SNCF operates the country's national rail services, including the TGV, France's high-speed rail network.
Always check the train departures in advance. The staff at the station are very helpful, and there's always someone in the central stations who speaks English.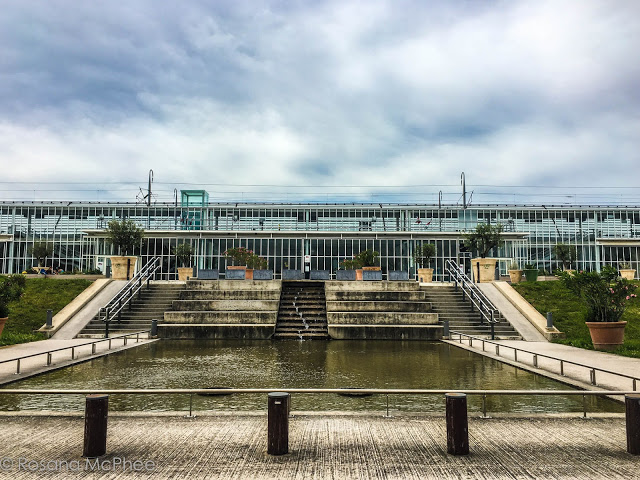 Avignon TGV station
For more information, destinations and costs:
Twitter :
@voyagessncf_uk / FB : Voyages-sncf.com
Instagram: @Voyagessncf #Voyagessncf
For information on accommodations, restaurants and activities in the region:
Drôme:
ladrometourisme.com
Twitter: @LaDrômeTourisme / FB: La Drôme Tourisme
Ardèche:
www.ardeche-guide.com
Twitter: @ArdecheGuide / FB: A la conquête de l'Ardèche
Gard:
www.tourismegard.com
Twitter: @VacancesGard / FB: Gard Tourisme
Vaucluse/Provence:
www.provenceguide.co.uk
Twitter: @ProvenceGuide / FB: Vaucluse Tourisme en Provence
Rhone Wines:
www.rhone-wines.com
Twitter: @RhoneWine / FB: Rhône Valley Wines
Next post: Southern France, Savour Drôme
Disclosure: I was a guest of each tourist board mentioned above on this press trip. As usual, all views are my own.