Puglia, a wine tour of Salento
My latest wine education adventure was in Puglia, Italy, for a wine tour of Salento with Salento Wine Tours. We started with an excellent lunch by the sea sampling Salento IGT. Indicazione Geografica Tipica is a designation which was created to accommodate growers who couldn't meet all the DOC or DOCG regulations for whatever reason but were still producing great wines. It is one of the most commonly used IGT titles in Puglia, southern Italy.
Salento, the limestone-based terroir, is a peninsula that divides the Adriatic Sea from the Ionian Sea and provides Italy with its 'heel'. Salento IGT wines can be red, white, rosé, still, sparkling, passito or dry – basically any style the local winemakers can think of, they can make. The majority, however, stick to the time honoured established styles of the area: powerful, dry, rustic reds.
Traditional Puglian varieties are most commonly used, particularly those for the local DOC-level wines. Southern Puglia's star DOCs are Primitivo di Manduria and Salice Salentino. Unsurprisingly,  the main grape varieties (Primitivo, Negroamaro and Malvasia Nera) are also essential to Salento IGT wines. The aromatic red Aleatico and the unsung Susumaiello (by the way I love that name) also get a turn in the spotlight, as does the grape Fiano, making a token appearance in the white wine category.
When you think of Southern Italy, the words hot, dry and flat spring to mind – and that is most definitely the terroir of Puglia. As you get closer to the coast, you can find relief from the famous hot weather of Southern Italy, accurately nicknamed Il Mezzogiorno (meaning 'the midday' and referring to the relentless heat). Olive tree groves dominate the landscape, and, although Italy is known for its olive oil, you won't find olive trees in such density anywhere else in the country. The region produces almost half of Italy's olive oil. Vineyards are prolific here, but they are overwhelmed by the sheer number of olive tree groves too.
Among the wine regions in Puglia is Salento. It is in the southeastern section or the "heel" of the boot. Many of the wines produced here stray from the designated growing zone, blend or ageing specifications of their proprietary DOCs. They are therefore categorised as IGT.  This gives producers the freedom to experiment and make wines the way they see fit.
The peninsula of Puglia contains two other viticultural areas, Brindisi and Taranto. The dominant red grapes grown are Primitivo, Negroamaro, and Malvasia Nero. These blends are often released as IGTs and are technically rosso blends, often having international varietals like Cabernet Sauvignon or Syrah in the mix or they are made into single varietal wines. There are also some excellent Salento Rosato wines, a few of which we tried on this trip. Whites (biancos) tend to be made with Verdeca and Francavilla. Producers also often use international varietals such as Chardonnay and Sauvignon Blanc in their blends.
One can also find novello (young), frizzante (lightly sparkling) and passito (sweet) wines produced under the Salento IGT designation.
During my stay in the region of Salento, I got to know Negroamaro which is a native red wine grape variety from southern Italy. It is grown almost exclusively in Apulia and grows particularly well in  Salento.  The grape can produce fragrant,  rustic wines,  very dark in colour and slightly earthy on the palate.  We sampled some delicious single-varietal Negroamaro wines as well as blends of Negroamaro and Malvasia Nera in Salice Salentino.
Another grape that caught my attention was the Susumaniello. Although it's considered a New Wave grape, it's an ancient grape of the area. Susumaniello also hails from Salento in Apulia. It's found almost exclusively around the town of Brindisi, often used in rustic blends with the likes of Negroamaro, Primitivo, and Malvasia Nera. Nowadays, it's taking its place as a single varietal wine.
Salento Wine Tours organised this unique 'Negroamaro wine tour'  around the region over four days, we visited wineries, vineyard and lots of eateries around the area sampling the food and wines of the region. They offer luxury wine tours,  private wine tours and group wine tours, cooking classes in a relaxed environment and English speaking wine expert guides throughout the visit. For more details, please head to Salento Wine Tours 
*The wineries we visited in Salento*
Leone de Castris in Salice Salentino
A small village in the region of Salento is the home of Leone de Castris, a historical winery of great importance in the area.  They were the first ones to produce quality wine in Salento.  The village was founded around the winery back in 1665. We visited the winery, the wine museum and sampled their wines over lunch.
Chandelier Murano c. 1700
Dona Lisa portrait
Their first harvest of  Negroamaro in 1943  is called Five Roses  – a Rosé wine. The name comes from the family; there are three generations and five children (five roses). On curious fact was that back in the day,  Leone de Castris paid their workers, who were mainly women, the same as the male workers.
Their wines can be found  at Eurowines  and Fiandaca in the UK
Our meal at Leone de Castris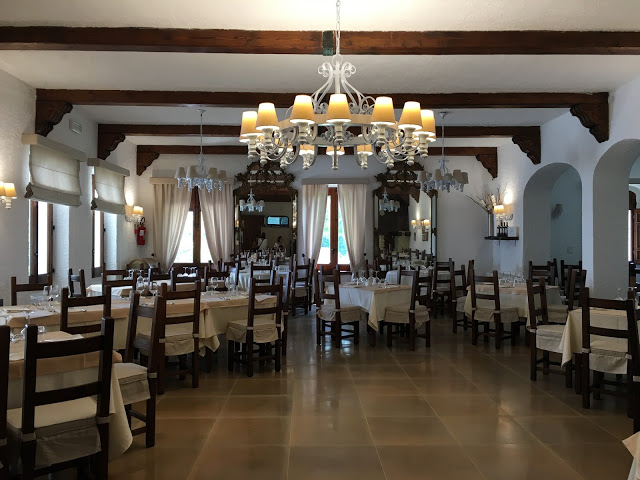 Villa Donna Lisa restaurant at Leone de Castris, Puglia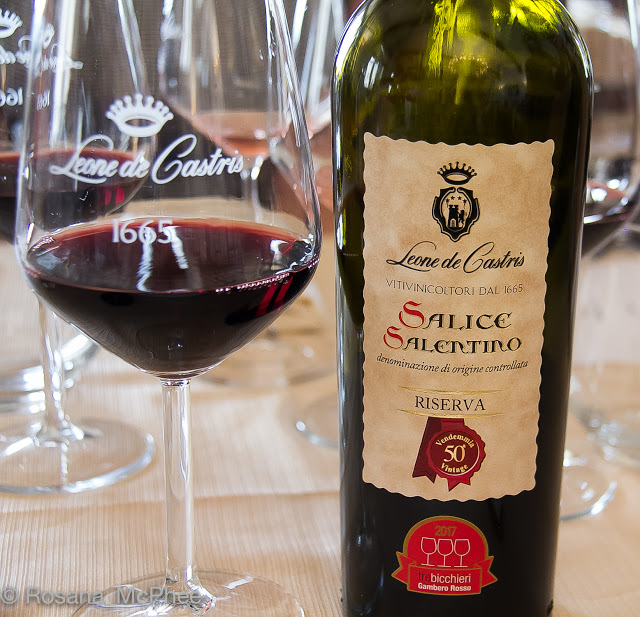 Salice Salentino Rosso Riserva DOC "50°
Salice Salentino DOC, grapes: 90% negroamaro, 10%Malvasia Nera di Lecce. The garnet red colour. On the nose red fruits, herbal, pepper, tobacco and cocoa. On the palate, it is soft,  with a well-balanced tannin with a slightly bitter finish.
Troccoli cime de rapa topped with Puglia stracciatella  e gamberi
swordfish with Salmoriglio (rocket rosemary olive oil salt pepper)  and vegetables
La torta millefoglie al caffè
Leone de Castris
Via Senatore de Castris
73015 Salice Salentino (LE) Italy
Tel. +39 0832 731112
L'Astore Masseria
L'Astore Masseria 'Wine Cathedral'
L'Astore is located on the outskirts of Cutrofiano, the town is known for pottery with a strong Greek influence.
The winery is full of history and tradition.  The winemaking tradition dates back to the 1940's when they produced wine in large quantities to be sold "by the tank". In the late 1990's they initiated the production of quality wines at a great expenditure and with much hard work.  They have been certified organic since 2012. They only work with native grapes from Salento: Negroamaro, Aglianico, Primitivo, Malvasia Bianca, and Susumaniello.
Next, we visited the underground Oil Mill which they converted into a wine cellar,  according to the architectural traditions of the Salento area. It features star-vaulted ceilings, and they use only regional materials such as the local limestone and sandstone. Italians and foreign visitors alike call it, "the cathedral of wine."
L'Astore Masseria
Via Giuseppe di Vittorio, 1, 73020 Cutrofiano LE, Italy
Phone: +39 0836 542020
For another view and delighful; images of this adventure head to my friend's wine extraordinaire blog : Spittoon 
Next Post: Eating and Drinking in Salento with Salento Wine Tours
Disclosure: I was a guest of Salento Wine Tours for review purposes. All views are my own
Save
Save
Save
Save