Visiting Chamonix in the Summer
Visiting Chamonix in the Summer
If you are an ardent skier, you have to head over to Chamonix because it is a haven for those who love skiing but it's as delightful and charming during the Summer too. The glorious white heights of the Mont Blanc massif form a magnificent backdrop so you can experience the Chamonix Valley at its best. Thanks to Brits William Windham and Richard Pococke, who discovered this town as a tourist destination, back in 1741, it is a Winter and Summer playground of epic proportions.
I visited last month, and I was surprised at how many things to do in the area. The climate in the village is warm, but it gets cold as you go up! Here are some of the things I got up to:
Aiguille du Midi
Aiguille du Midi cable car
Located at the height of 3,777 metres, the Aiguille du Midi and its man-made terraces offer a 360° view of all the French, Swiss and Italian Alps! You can use the lift to go up to the summit terrace to get a stunning view of Mont Blanc. "A Step into the Void" is a must! Standing in the glass box measuring 2.50-metres, it hangs over a 1000 m precipice – thrilling! There's also a gondola lift ride over the Glacier du Géant to the Pointe Helbronner in Italy (open from June to September) – must go back to do that!
Super easy to get there, take the cable car up in the middle of Chamonix! Thre's a cafe and the Refuge Le Plan de L'Aiguille.
"A Step into the Void"
Refuge Le Plan de L'Aiguille
Refuge Le Plan de L'Aiguille
Refuge Le Plan de L'Aiguille is a mountain cabin refuge in the Mont Blanc massif which serves Alpine food and drinks. It's a hidden and gorgeous place to have lunch after a day spent hiking, skiing and sightseeing. Prepare to be amazed by stunning views of the valley and by the friendly donkeys wandering around.
This refuge, which is a safe place to take protection from the extreme weather of the mountains, is open and staffed from May through to late October. Outside of this period it is open and equipped with bedding but is unstaffed. A great place to visit when in Aiguille du Midi, just 20 minutes walk from the cable car station.
Lunch at Le Plan de L'Aiguille
Le Landaise
Duck confit and Le Farcement Savoyard (potatoes, bacon, cream, prunes and raisins) served with green salad
La Tartiflette
potatoes, onions, lardon creme, Reblochon – served with green salad.
le Croute aux Chanterelles
Chanterelle mushrooms, bread, shallots, cream
dessert : gorgeous fruit tarts

All washed down with local award winning beer Brasserie du Mont Blanc and vin chaud (mulled wine) – the digestive was a local herbal liqueur of Génépy traditionally taken neat – an acquired taste. The food was absolutely delicious, home-made style and very substantial!
For info and menu:
Walking around Chamonix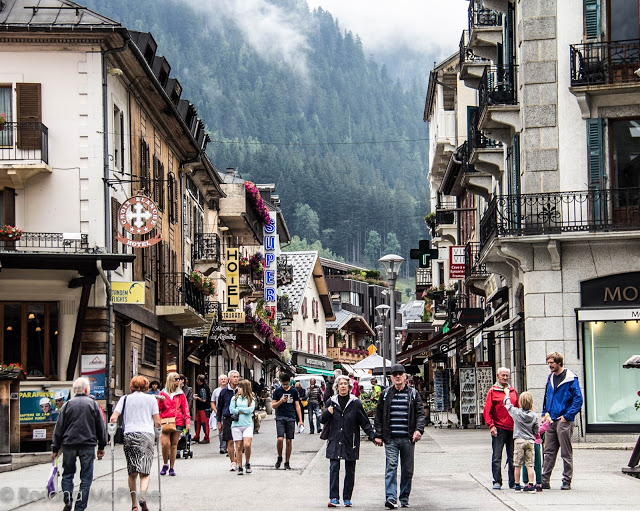 Walking around Chamonix
Refuge du Montenvers
Refuge du Montenvers- Terminal
Neige
cost for the rooms:
The price for a room is from €210 up to €250 half board for two.
Suite costs €350 to €450 half board
Refuge du Montenvers
Refuge du Montenvers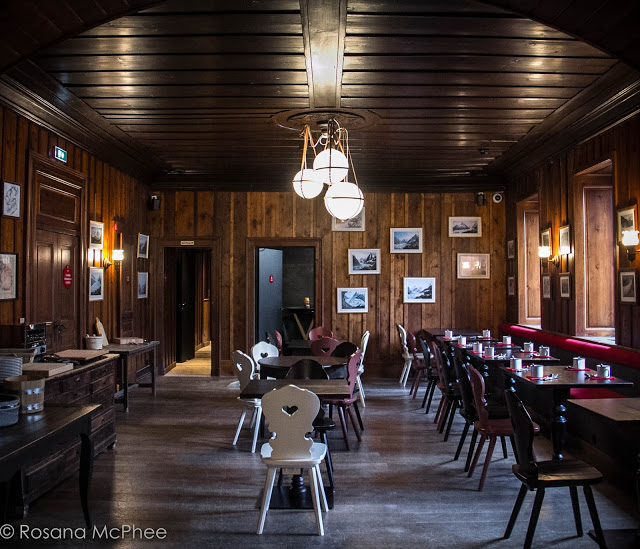 Refuge du Montenvers
The bar very well stocked! Refuge du Montenvers- Terminal Neige
Breakfast at Refuge du Montenvers- Terminal Neige
Mer de Glace (Sea of Ice)
It is the biggest glacier in France – 7km long and 200m deep! Take the same train that goes to Montenvers from Chamonix town centre (Gare du Montenvers) to get to the glacier and the hotel. We didn't have time but check out the "Ice Cave" that takes you into the heart of the glacier – it describes the living conditions of the mountain people in the early 19th century. Must plan another visit!
Ready to plan a trip to Savoie Mont Blanc? You will have a fabulous time for sure!
Until next time why not join me on Instagram, Twitter and Facebook…X
A short video of my adventure:

Pin for later

Disclosure: I was a guest of Savoie-Mont-Blanc Tourism Board for review purposes. All views are my own.