I just wonder how much people actually know about São Paulo, the city where I was born, grew up and lived till the early nineties.  I wonder because I get asked many questions and some of them are quite intriguing to say the least. First of all, answering one reasonable  question: where to stay in São Paulo?  Well, during my recent travel to São Paulo, last December, I was lucky enough to be invited to the
InterContinental São Paulo
which has been going through an overall renovation. A luxurious hotel, The InterContinental, is located in the heart of São Paulo city near the famous Paulista Avenue surrounded by glamour and plenty of shopping choices. The underground (Trianon-Masp) is just two blocks away from the hotel so you can reach anywhere in the city very fast. It's central location makes it easy to explore this fantastic city.  Their concierge team can plan a day trip to fit their guests needs, that is usually carefully planned for one person or for a couple with a car or a van. The InterContinental São Paulo is famous for it's Sunday brunch, unfortunately I couldn't make it that day, but I did go during the week for a lovely breakfast with Juliana and Amanda, who I met through my friend and fellow blogger Charles Yap.
The hotel is situated in one of the best neighbourhoods in the city, called Jardins, surrounded by the best local and worldwide famed shops and galleries in town.
ALAMEDA SANTOS, 1123 • SAO PAULO, 01419-001 • BRAZIL
Here are some highlights of this modern and elegant hotel:
 Lobby area
Bar area
Saude! = Cheers!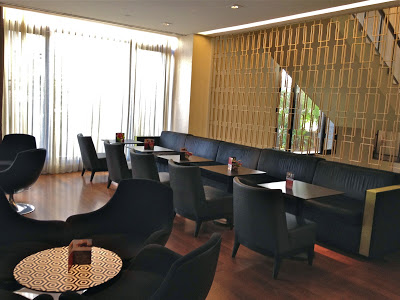 Convention center and meeting rooms – ideal for business or for private celebrations. Nine fully-equipped function rooms, open areas for coffee break and excellent in-house catering.
 The swimming pool, perfect in a sunny hot weather
Tarsila  Restaurant
Famous for their Sunday brunch
Weekdays:
Breakfast
06:00am – 10:30am / Lunch 12:00 – 3:00pm
Dinner
07:00pm  – 11:00pm
Weekend:
Breakfast
07:00am – 11:00am
Lunch
12:00 – 3:00pm
Dinner
07:00pm  – 11:00pm
Brunch only on Sundays from 12:00 – 4:00pm
Tarsila's menus (breakfast, lunch and dinner) are carefully prepared by the Chef Marcelo Pinheiro, who has over 15 years experience  and has worked in various kitchens in Brazil and internationally. In 2007, he was the only Brazilian representative at the Bocuse d'Or, the biggest event of global gastronomy.
Our breakfast was delightful and very appropriate for the hot weather in December in Brazil. A choice of cold and hot buffet, traditional  and regional breads from all over Brazil are on offer. Plenty of tropical juices, coffee and tea.
Delicious fresh local cheeses
Fresh juices, includes orange, passion fruit, mango, watermelon, coconut water and pineapple. Something for everyone!
Pao de Queijo
variety of breads
ingredients = made to order omelettes.  You choose your fillings.
Great quality produce, freshly prepared with great care
The restaurant deco is a bit tired and uninspiring, but fear not! the restaurant is schedule for renovation beginning of 2012, I can't wait to go back to see the results.
Moving over to the accommodation…
The renovated executive room: Just as a guide line during the months of December 2011 and January 2012, this suite costs between US$700 to US$900 / night.
Executive room
The Breakfast menu
Room service menu
The InterContinental Sao Paulo service is charming, friendly and sophisticated, without being pompous. All the modern cons you would expect at a luxury hotel. Perfect place to stay when in São Paulo or just pop in for a drink at the bar and why not try the food at Tarsila.
Hot&Chilli was guest at InterContinental Sao Paulo.
Save
Save