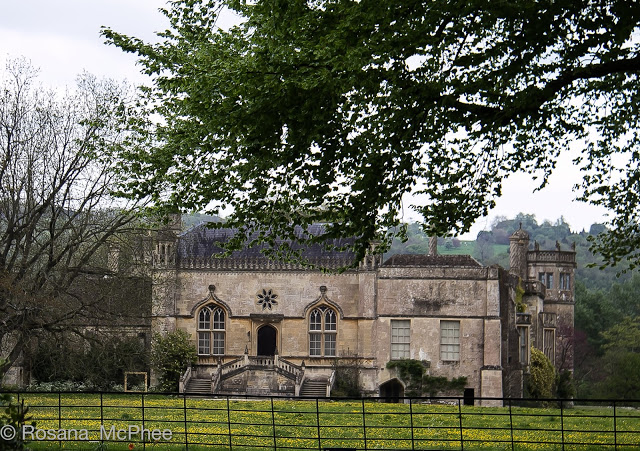 Lacock Abbey
Wiltshire, one of the historic regions of England, has roots that go back to medieval times. It's nestled in the counties of Dorset, Somerset, Hampshire, Gloucestershire, Oxfordshire, and Berkshire. The area is also known for its pre-Roman archaeological sites.
Wandering around the charming village of Lacock, one can see why it is a National Trust village. If you think you've been here before, it might be because it is a popular filming location. Following the main road into the village, you feel as if you are in a fairytale place, as long as you disregard the modern day cars intruding on the road! The central area used for filming is a wide street full of historic houses. Each building is prettier than the other with bags of character and historical details. This village has been used in film productions of Wolfman, Pride and Prejudice, The Cranford Chronicles, Emma and the Harry Potter movies.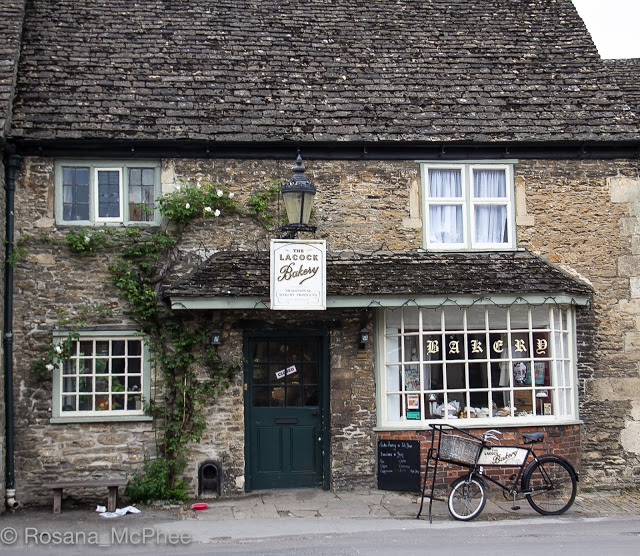 Bakery in Lacock
Bus Stop
The village's focal point is the majestic Lacock Abbey with its lush grounds. The 13th-century building is situated in the middle of the village. It was used as an abbey until 1539, after which, it became a country house with its own woodland grounds.
For many years, it was the home of the Talbot family, including William Henry Fox Talbot in the 19th century. His incredible achievements and his invention of the photographic negative are celebrated at the Fox Talbot Museum in the grounds of the abbey.
This place is very photogenic, and you feel a sense of community. The village is dotted with charming houses bursting with architectural details. I love this area of Wiltshire, specially this village.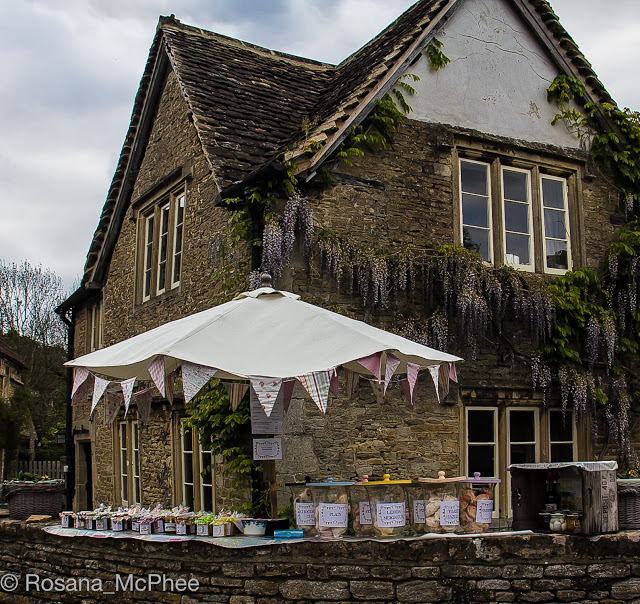 Locals selling jams and homemade goodies in Lacock
Staying at The Sign of the Angel in Lacock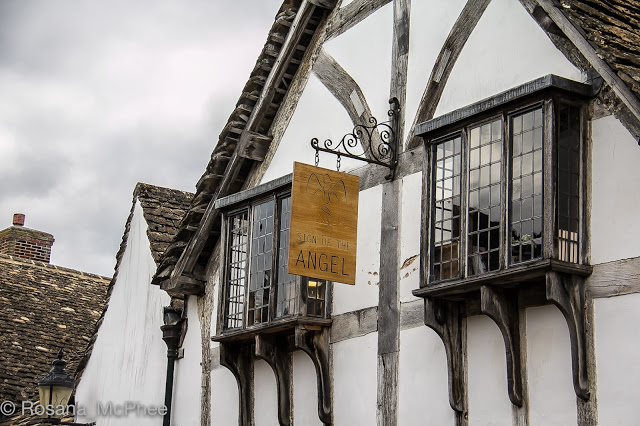 The Sign of the Angel
The Sign of the Angel is believed to be named after an old type of coin used in the area and is located right in the centre of the village. Dating back from the 15th Century, it was a timbered coaching Inn, meaning it was a lodging primarily for coach travellers. Nowadays, it's a local restaurant and features five traditional and comfortable rooms that are available to guests for relaxing getaways.
Every old building is said to have a history, and this one is no different. I was told that there is a resident ghost. Some guests hear things that go bump in the night; one member of staff was locked in a room with no explanation, as the keys were in their pocket. Some people feel a 'presence' in the corridors. When one morning a guest asked about the resident dog, the receptionist said, "We don't have a dog." The guest then said, "How can that be? It was scratching at my door last night…" Spooky! I love a good ghost story so I totally bought into it. Disappointingly, I must say that I didn't 'see' or 'feel' any presence of a ghost.
The Sign of the Angel is a fabulous place to stay in the area; I just love how quirky and atmospheric this place is. It's a short walk away from the Abbey and spending time in and around the village is pleasurable. You feel as if you are an actor in a film.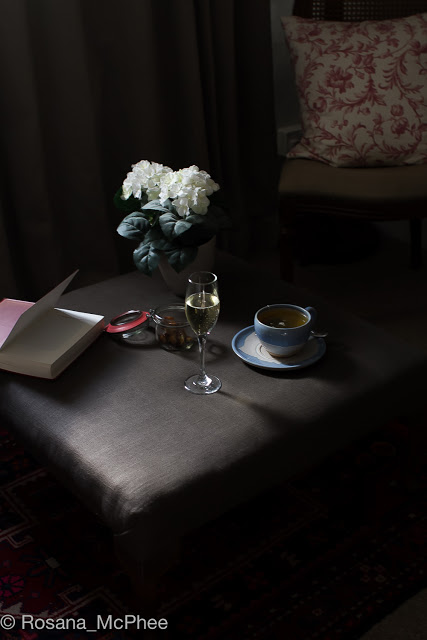 Welcome drinks at The Sign of the Angel
The Sign of the Angel has been sympathetically renovated, so expect quirky decor, uneven floors and doors, beamed walls and ceilings. For guests staying overnight, the main living room upstairs has wood panelled walls and they can expect stylish furnishings along with a cottage garden. They offer en-suite bathrooms, free Wi-Fi, and tea and coffee making facilities in the bedrooms.
The restaurant is rustic-chic featuring a stone fireplace and a beamed roof. They offer Modern British dishes using local and seasonal produce. Dogs are welcome for a fee.
Eating at The Sign of the Angel
Tasting Menu – May 2017
A straightforward and well-crafted dinner
Dinner 7 courses @£40 | Wine flight £15
Amuse bouche
Bath soft cheese and Veal bonbon, selection of bread made in-house, rosemary and chilli were my favourites.
The gnocchi was light and well-seasoned. I love the contrast of sweet pepper and feta cheese – texture and taste
Fish, asparagus, pickled onions almonds buttermilk jelly honey
Palate cleanser was a refreshing orange and Pimm's sorbet
Local Lamb juicy spinach carrots mash, Spinach & Rosemary twirl and thick sauce to die for
Dessert: Lavender Brownie, Raspberry and Chocolate Cheesecake with Pedro Ximenez – sorry not photos!
Port soaked Stilton paired with Dow's fine tawny port
Breakfast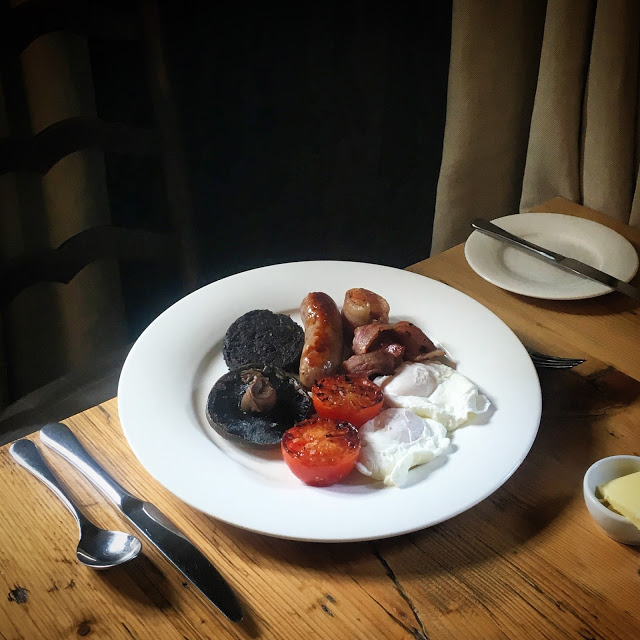 Lovely cooked breakfast and a table full of nice breakfast bits too.
I thoroughly enjoyed staying at The Sign of The Angel. I highly recommend it.
Disclosure: I was a guest of The Sign of the Angel organised by Visit Wiltshire. All views are my own.