This post it's all about another use for eggs, the fabulous Fios de Ovos  (angel hair – candied egg threads). It is common belief that the medieval nuns in Portugal used vast quantities of egg whites to stiffen their habits, and developed endless dessert recipes to use all the surplus yolks. Here is one of my favourite deserts. Every year my mum used to order about 1/2 kilo to decorate my birthday cake with cherries and ice cream too.  A taste of my childhood in Brazil.  Here is the recipe.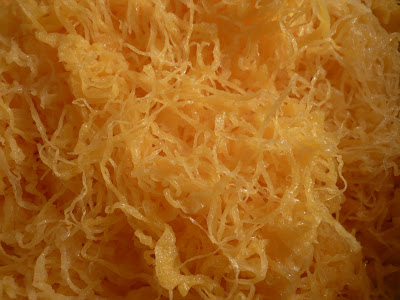 Ingredients
18 egg yolks
5 cups sugar
3 cups water
Method
1.Make a rather thin sugar syrup by mixing the sugar with the water in a large, flat frying pan over medium-low heat;
2. Separate the egg yolks from the whites (not needed) and strain them through a fine strainer to remove the yolk sac;
3. Place the egg yolks in a plastic bottle with a long tip;
4. Slowly drizzle the yolks into the sugar syrup;
5. When the become cooked–they turn a strong yellow-gold–remove them from the sugar syrup onto a willow strainer;
6. Untangle them from each other with two long toothpicks;
7. When finished cooking all of the egg yolks, strain the sugar syrup to spoon every so often over the cooked yolks to keep them moist.
In Brazil and Portugal, they sell special funnels, with four tips into which the egg yolks are placed and dropped over the syrup.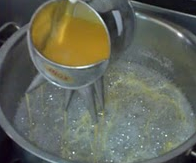 This recipe is simple, however it's labour intensive.
Store the finished egg threads in jars and refrigerate.  It will keep for about 3 days. Use as a filling in many traditional Portuguese and Brazilian desserts, or as a decoration of both sweet and savory dishes. In Thailand, rose water or jasmine essence is added to the syrup, which is a special refinement that makes the fios de ovos (or foy tong) even more fragrant and delicious!
The sweet threads can be used to top vanilla ice cream, to decorate a multiplicity of different cakes and pies.
It can be bought at your local Portuguese delicatessen.  I must confess I don't make them as I don't have the
special funnel. Please let me know If you ever find it for sale in London.My local Portuguese deli/restaurant in Brixton Hill  they used accept orders  Lisboa Gril
l
Save