Visiting The House of Krug in Champagne
The history of the House of Krug
In 1843 Joseph Krug founded his eponymous house, The House of Krug. Originally from Mainz, Germany, on the banks of the Rhine, he left Germany in 1834 to work in France.  He was employed by Champagne Jacquesson for eight years, working his way up the ranks, he learned to blend champagne as well as the machinations of the champagne market. He married and had a son, Paul Krug, and eventually founded Krug et Cie. in 1843. Joseph was a polyglot which put the company in a position to exploit key overseas markets.
Joseph wanted his son to take over the company once he was no longer around, and so he ensured that his son knew all the ins and outs of the business. They moved premises from Châlons-sur-Marne in 1866 to Rue Coquebert, in Reims. They have been in the same building ever since.
Today the house is part of a vast portfolio owned by the multinational conglomerate LVMH Moët Hennessy • Louis Vuitton S.A. whose collection includes other well-known wine brands. Despite LVMH's majority ownership, the Krug family is still actively involved in all the critical decisions of the house.
The Krug World Festival
I met Olivier Krug, the sixth generation of the Krug family and who calls himself the 'gatekeeper of the heritage' of the House of Krug at a beautiful event organised by the House for media, journalists and bloggers from around the world. The newly restored Maison Krug – a unique space housing over 150 years of history, was the backdrop for this occasion.  We listened attentively to Olivier's stories of his childhood in the house while Champagne was flowing, as you would expect, in aesthetically pleasing 'Joseph' glasses. These Riedel glasses are made of a single piece of crystal glass shaped in such a way that allows the bubbles to reach their optimal expression, enabling them to reveal a bouquet of aromas.
For the whole of the duration of our stay at Krug, we never drank from a champagne flute.  Olivier is totally against them. He's the founder of hashtag #noflute.
Olivier's enthusiasm to share the Krug heritage with the world has resulted in the inception of the Krug World Festival; the first one was held in Rome last year.
This year, at the second edition, guests had a rare chance to savour some of the world's most prized Krug throughout the day. They were also completely immersed in the world of the House of Krug at its headquarters in Reims, which included a visit to its cellars.
Guests were then driven to a secret location in nearby Verzy for lunch. We were greeted with a glass of the elegant Krug Rosé 21st edition.  A wine with savoury notes, it was developed to be paired with food, for a daring gastronomic adventure. Music features heavily at the House of Krug; we were given a 'silent disco' headphone to taste Krug Rosé with soothing music while walking through the forest to reach our lunch spot.  The big reveal was the new Krug Rosé glass,  expertly crafted by Riedel in collaboration with Krug.
The Wild Lunch menu was expertly paired with the pure elegance of the Krug Rosé 21st Edition throughout the meal. The menu consisted of mostly savoury dishes and gave us an idea of what a fantastic pairing this unusual Krug rosé can be with its robust, broad and extensive aromatic palate.
This champagne is the only Rosé Prestige Champagne to be blended from a rich palette of wines from three different grape varieties and different years. Skin-fermented Pinot Noir gives a seductive, sensual and rounded finish in the mouth.
The bottle we drunk at the meal was composed of 51% Pinot Noir, 41% Chardonnay, and 8% Pinot Meunier.
The  Rosé from Krug was paired with the following:
Foie Gras
Gnocchi vin jaune
Lobster tartare
Pan-fried Foie gras and artichoke cream
Monkfish, chorizo emulsion
Roast rack of lamb
Dry-aged rib of beef
Corn & Asparagus
Strawberry soup and verbena
Cannelé Bordelais
Lemon diamond
cupcake almond & apricots
Michelin-starred chef, Arnauld Lallement lead the guests through an extraordinary dining experience in gorgeous surroundings. We were also gifted with a book on mushrooms with recipes from noted chefs.
Krug : Dinner, Champagne and Music Pairing
Krug has come up with a unique proposition: Krug Music Pairings. The House invites specially selected musicians to participate in a program of matching Krug champagne with their original compositions.  Inspired by what they taste, these artists choose a special playlist to reflect what they felt and how they connect to the tasting experience. These selections, made available to the public via krug.com or the Krug App, enhance Champagne lovers' tasting of Krug Champagnes, taking the whole experience to another dimension.
As the evening approached, we had dinner al fresco at the House of Krug courtyard with more delicious food by Chef Arnauld Lallement and music by Lianne La Havas, Jacky Terrasson and Sly Johnson.
The evening meal was sluiced with elegant Krug champagnes and gastronomic delights:
Haddock and caviar – Krug 2003
Lobster  – Krug 2002
Squab (young pigeon)  Foie gras pie  – Krug Rosé 21st Edition
Roasted peach, verbena, muesli and dried fruit – Krug Grande Cuvee 160th Edition – instinctively pleasurable
The evening finished with a massive sing-a-long with all the guests and musicians. Perfect ending to a perfect night!
The Krug iD
Every bottle of Krug Champagne has a story to tell. As a House with a contemporary spirit and a history of pioneering, Krug embraces new digital technology and its potential to disrupt and delight. Since 2011, the House has invited Champagne lovers to enter the Krug iD – the six digits can be found on the back label of every bottle – in different platforms such as the Krug website, the Krug App and Twitter. Now, when someone tweets a Krug iD ("#KrugiD 115014" for example), they receive an immediate response from Krug giving them and their followers access to all the Krug iD information. These tweets encapsulate the true spirit of the House, always with its finger on the pulse of today's culture.
Krug is about the conviviality, emotions, and harmony of champagne, to be enjoyed by everyone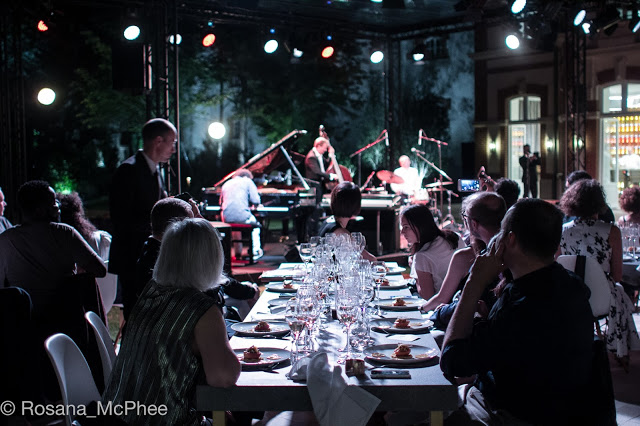 Krug World Festival 2017
'Krug festival in the UK – Into the Wild.'
Krug will host a special event in Hampshire, UK, on the 29th July 2017 from 4:30 pm – midnight. Expect an exceptional experience with  Argentinean Chef Francis Mallmann who will  headline the evening of open-fire cooking –   'Krug festival – Into the Wild.'
This event will take place across the three sites on The Grange – pairing each dish with champagne from the Krug portfolio; Grande Cuvée, Rosé and Vintage 2002. Large open fires will give the evening a theatrical feel, while the chefs will be cooking locally sourced produce for up to seven hours.
Music will be by specialist music and online platform, Mahogany
For more info: www.krugfestival.com
#krugfestival
Explore Krug: krug.com
For more champagne posts: Hot&Chilli Champagne
Until next time why not join me on  Instagram, Twitter and Facebook…X
Disclosure:  I was a guest of Krug at this event.  All views are my own.
Save
Save