@font-face {
font-family: "MS 明朝";
}@font-face {
font-family: "MS 明朝";
}@font-face {
font-family: "Cambria";
}p.MsoNormal, li.MsoNormal, div.MsoNormal { margin: 0cm 0cm 0.0001pt; font-size: 12pt; font-family: Cambria; }.MsoChpDefault { font-family: Cambria; }div.WordSection1 { page: WordSection1; }ol { margin-bottom: 0cm; }ul { margin-bottom: 0cm; }
Chicken, bacon and palm heart pie
Anglo-Brazilian pie to celebrate British Pie Week. A twist on the traditional British chicken, leek and bacon pie.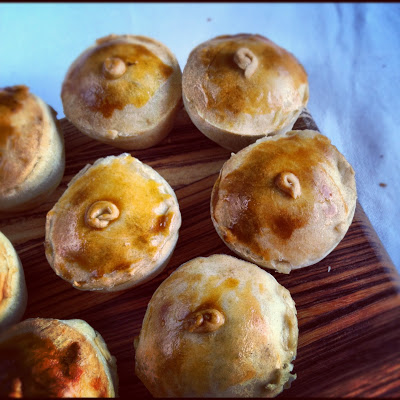 empadinhas – individual pie
Ingredients
• 300g plain flour
• pinch of salt
• 150g butter, cubed and very cold
• 45-55ml cold water about 4 to 5 tbsp
Method
1. Place the flour and salt in a large bowl and add the cubes of very cold butter.
2. Working very quickly use your fingertips to rub the cold butter into the flour until you have a mixture that resembles coarse breadcrumbs. Add water to bind.
Alternatively, you can use the food processor: put the flour, butter and salt in the food processor and pulse until the fat is rubbed into the flour.
With the motor running, gradually add the water through the funnel until the dough comes together. Add enough water to bind the mixture.

3. It should look and feel smooth and not too wet or sticky
4. Wrap the dough in clingfilm and chill for 30 minutes before using.



Filling:

250 gr of chicken cooked and shredded

100 gr of cubed streak bacon 

2 onions, minced
2 cloves garlic, minced
1 tsp vegetable oil
4 tomatoes, diced, seeded and peeled
100ml milk plus 
50ml of cream
2 tbsp. cornstarch
handful of thyme chopped

2 bay leaves
Green olives

Spring onion sliced
1 can/jar heart of palm in brine, chopped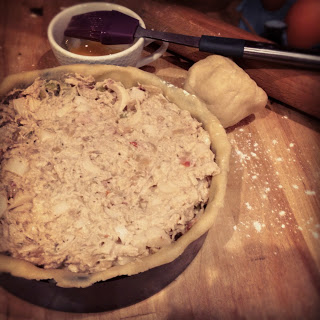 Method:

 Saute the onions, garlic, tomato, streak bacon for 10 mins, then add chicken and palm hearts chopped and cook for a further 15 minutes. 
Add milk, cream and cornstarch and heat until thickened. 
Add thyme, spring onions sliced, bay leaves, olives, salt and black pepper. Let it cool completely. 
In the meantime, divide the pastry in two. 
Open the half of the pastry dough in a lightly floured dusted surface to prevent from sticking to the surface. 
Cover the bottom of the pie mould, add the cold filling and top the pie with the other half of the pastry. 
Brush crust with yolk of 1 yolk egg beaten, twice to give it a good shine. 
Bake 30 minutes at 350 degrees or until its done.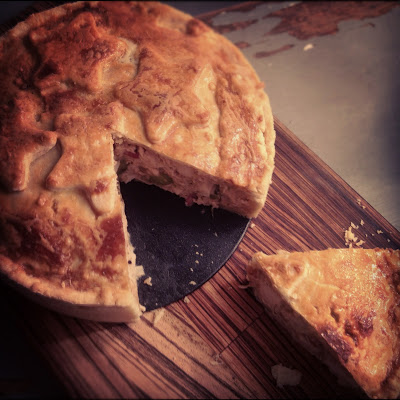 family size pie
This recipe by Hot&Chilli was first published at Great British Chefs blog.