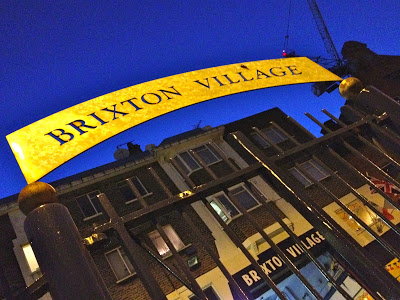 Life in Brixton is quite colourful and eventful. Since the redevelopment of Brixton Village aka Granville Arcade, Brixton is now a food and vintage shops destination. In 2009
Space Maker Agency
, Lambeth Council and the Arcade owners 'rescued' the then Granville Arcade, a 30's indoor market building that had fallen into hard times. After a few pop up theatres, community project and cafes, some shops and start-ups were given up to three months rent free in a bid to revive the Arcade and make it a long term success.
The Arcade together with the sister Arcade 'Market Row' and surround areas have seen a new lease of life. Everyday there's something new and exciting to explore at the outdoors area and indoors market.
A foodie's paradise with lots of new vintage shops and a new wine shop, there's something for everyone. Brixton Village photos:
BrixtonVillageSafari
,
Brixton
and for daily updates
@BrixtonVillage.
Last week I was invited to a new supperclub at Heritage Deli UK, at Brixton Village, by the owner Dan and his lovely wife Nenah, who co-owns next door bakery
BreadsEtecera
, review by me last year.
Heritage Deli, a new-ish venture of Dan and Nenah, a tinny cafe where you can find lovely fusion of flavoursome quick bites from Malta, Greece, Turkish and Italian fares – their heritage!
The supper club menu, devised by the chefs Daniel Fiteni and Sherri Dymond, was very impressive and generous, note that the menu changes every two weeks. Well done home cooking with soul, care and a smile. The tables are set outside of this small establishment, so you have the opportunity to soak in the Arcade's buzzing atmosphere. Four courses served at 8pm at £25/head and BYO, there's a guy selling draft beer 30 seconds from the Deli and there's a new wine shop
Market Row Wines
. Two words: Book Now!
Heritage photos
Dan working on the desert earlier in the day
The Menu
Roasted garlic and sundried tomato hummus with organic and sourdough bread
Courgette and basil soup with Parmesan crouton
Braised wild rabitt with smoked bacon and prunes with homemade pappardelle topped with salsa verde
Chocolate Cannolli filled with white chocolate and rum infused cream and cherry and coconut brownie with English strawberry coulis
THIS ESTABLISHMENT NO LONGER EXISTS, IT'S NOW THE JOINT, BY SAME OWNERS
Heritage Deli UK
Unit 87, Brixton Village Market, SW9 8PS