My wanderlust list is quite extensive, and my top ten destinations keep changing, but Seville has always been in my top five places to visit.
The time came that I actually made it to Seville this January.
Being a food-lover, Seville was a dream destination for me to explore Andalucian cuisine. What better way to enjoy the cuisine than to jump into tapas and wine tasting through
Devour Seville
food tours? It was an excellent choice. From the first contact to booking, and the tour itself, it was super organised—The website was clear and easy to navigate, booking was very easy, and they really made sure that I was reminded about the tour up to the day.
The meeting point was very central and just a ten minute walk from my hotel. I was quite surprised that there were about ten people on tour; for cold January, that was pretty impressive. It was a colourful and diverse group of American guests, one Irish guest, and me, Brazilian. Some of the guests from the US were on holiday, and others lived in Europe, like me. I was all good banter.
This particular tour was about tapas and wine, but when they say wine, it includes vermouth, varieties of sherry, and local wines.
Vermut and local cold meats
We started with a short walk to our first stop, Maestro Marcelino, a tapas bar with a mixture of deli and boutique-style foods located in the Sant Cruz area near the Seville Cathedral. They have barrels selling wines by the glass, or you can bring a bottle to fill up. We tried their local cured meats, mojama, chorizo, chicharrones, caña lomo, Iberico Bellota, and montaditos—little sandwiches. We had the grilled pork loin, and we washed it all down with a sweet red vermouth on tap.
The next stop was Las Teresas, a busy traditional tapas bar; there, we tasted Jamon Iberico de Bellota—acorn-fed Iberian ham, aged sheep cheese, and a glass of dry manzanilla sherry, a variety of fino sherry made around the port of Sanlúcar de Barrameda. It's very pale and dry. We also tasted Amontillado, a sherry wine characterised by being slightly darker than fino.
The final stop was Vineria San Telmo. This place serves a modern take on tapas using fresh local ingredients. We had hot-off-the-grill tapas and three modern style local wines from Cadiz, Rioja, and Sierras de Malaga. It was just a fantastic place for a degustation of modern Seville cuisine.
Panko Prawns – delicious king prawns cooked in Japanese panko
breadcrumbs, served with arugula, grilled zucchini/courgette and paired
with a soy mayonnaise
A mild chicken liver pate aperitif served with caramelized onion, melted
cheese and a tomato confit and crispy toasted bread – ideal for
stacking!
A crepe de morcilla, using delicious blood sausage mixed with rice to
create a unique texture and amazing taste, typical from Burgos in
Northern Spain, served in a crepe with caramelized onion and lightly
fried beetroot on top and a sweet pepper sauce.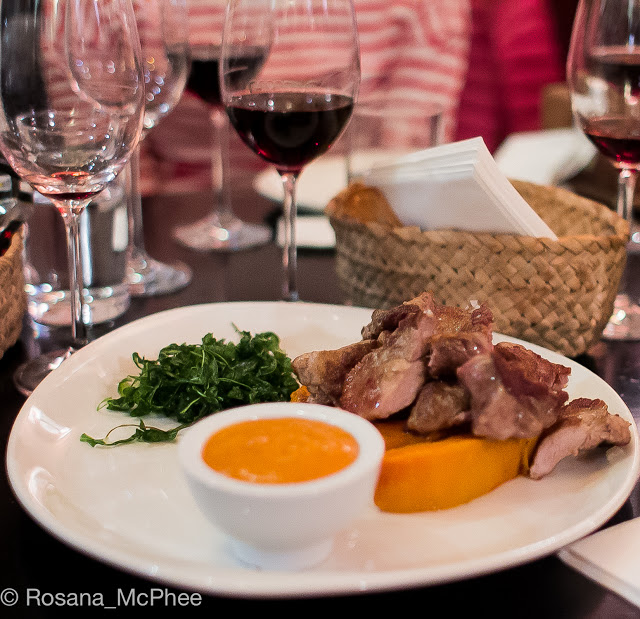 beautifully prepared pluma ibérica, a cut of pork taken from near the
ribs, served on a bed of pumpkin with a deliciously light curry sauce –
so good!!
Our guide, Fleur was fabulous, knowledgeable, and very patient. She is British but has been living in Seville for the last six years. She told us various local curiosities, and it was a very entertaining evening.
The tour was a mix of traditional and modern establishments in Seville. At the end of it, I was fully satisfied and needed no more food until the next day. The tour was supposed to take 2.5 hours, but it ran over a bit, although no one seemed very preoccupied. It is ideal for first timers and an intro to the Seville food scene. It is highly recommended.
Disclosure: I was a guest of Devour Seville. All opinions are my own.