Angers
The beautiful city of Angers is located in the Maine-et-Loire (Pays de la Loire region) in the western-centre of France – it is the capital of the Maine-et-Loire department. Angers is 266 km from Paris by car or 1.5 hours on the Eurostar. Anger was the home of the House of Plantagenet: the Kings of England back in the 12th century. A place full of life, art, history and of course good food and wine. Angers is also a university town and the gateaway to the Loire region.
Tour and food shopping in Angers
The charm of a dynamic city with a prestigious past make exploring Angers a pure pleasure; it's walkable and safe. The trams run the length of the town and bikes seems to be the way the locals get around. Some places of interest are Angers castle, the biggest medieval fortress in the Loire Valley; a few museums, in particular, Gallerie David D'Angers, and shopping in the city centre.
Gallerie David D'Angers


This gallery is located just next to the Beaux-Arts museum.
David D'Angers was a local famous French sculptor who worked on Arc de Triomphe and the exterior of the Louvre in Paris and beyond. His many busts and medallions (over 500) are famous, and among his sitters may be found not only the distinguished men and women of France but many others both of England and Germany countries which he visited professionally between 1827 and 1829.
This art space used to be All Saints Abbey which has been sympathetically refurbished marrying modern and old architecture. Plenty of daylight come through the large windows and glass roof on both sides of the building. It displays casts by the artists, drawings, terracotta studies and final sculptures in marble and bronze. Here the final art can be traced, stage by stage, from inception to final product.
The Apocalypse Tapestry
The Apocalypse Tapestry was produced between 1377 and 1382. It is a large medieval French set of tapestries commissioned by Louis I, the Duke of Anjou, and it depicts the story of the Apocalypse from the Book of Revelation by Saint John the Divine in colourful images.
Initially, they spread over 90 scenes. However, some sections have been lost, and others mistreated the late 18th century. Now-a-days it is displayed in the Chateau d'Angers.
Chateau d'Angers
The Apocalypse Tapestry room

Shopping
Carré d'Anjou
Le Carré d'Anjou is a store/cafe just outside the Gare Angers for local products "Made in Anjou." Taste the pastries au Cointreau with a cup of tea in the Carré lounge.
Benoit Chocolat
Owned by Anne Benoit, an award-winning French chocolatier. Their beautiful boutiques sell delicious cakes, pastries and of course fabulous chocolates!
Benoit Chocolat cafe
Quernons d'Ardoise Almond Hazelnut Pralines, Angers speciality : caramelized praline with almonds and hazelnuts, coated with blue
chocolate. The crunchy praline is set off by the smoothness of the
chocolate.
Maison du Quernon
La Petite Marquise is an artisan chocolate shop. Filled with boxes of chocolate ballots, local specialities and sweet pastries.
Food markets
We visited an open market next to the hotel in the Place Leclerc on an early Saturday morning – Quite a few stalls selling everything under the sun.
Another one is Lafayette – in Quartier Centre Ville, place La Fayette, over 50 stalls.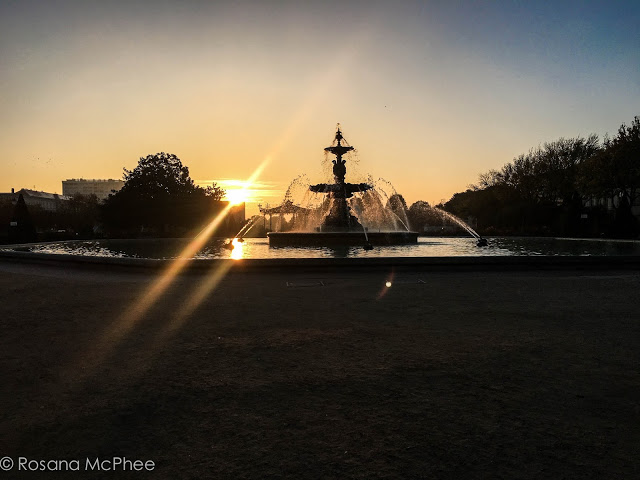 Jardin du Mail – on the way to the Saturday Market
A walk around the streets of Angers
Opera
Library
The Saint Maurice Cathedral of Angers
Visit Cointreau
The Cointreau factory is located just outside Angers. They have a tour that takes about 2 1/2 hours which includes a tasting of Cointreau . It shows how it is produced, the history, advertising through the decades and the bottling plant. The centre is on an industrial estate, within easy reach from Angers about 15 minutes drive.
Book in advance : http://www.carre-cointreau.fr
Boulevard des Bretonnieres | Saint Barthelemy d'Anjou,
Angers, France
t: +33 2 41 31 50 50
Cointreau fizz – Cointreau, lime, sparkling water and ice
Eating in style in Angers
LE XVIIème
This remarkable eatery is located in a 1658 (17th century) majestic building by French architect François Gohin des Aulnays, hence its current name.
The Chef Richard Cerinei works with fresh quality products, selected from the best suppliers, and all their preparations are "homemade".
Every morning, they wake up to shop for the finest and fresh fish our, meat, vegetables, All dishes are prepared on site from scratch the desserts, sorbets, etc.
The menu is forever changing according to season and ingredients availability; another highlight is their wine cellar, sourced by Gaëlle Cerini, Richard's wife which that makes this place even more special
All this represents a work of passion; that reflects on their menu and wine list.
A real gastronomic experience at the heart of the city with inventive cuisine, emphasised by a collection of great wines.
Cremant de Loire, Cointreau, strawberry syrup
a delicious surprise starter
Foie Gras: citron foam. foie gras brûlée, apple, oyster leaf – the lemon foam cut through the foie gras It was just delightful. This dish was paired with Coteaux de L'Aubance – sweet Chenin
Petra Alba organic Cabernet Franc wine – Anjou-Villages Brissac AOC
juicy Beef accompanied by various wild local mushrooms – simple and mouth-watering
some sparkling wine to accompany our dessert
Strawberry macaroon, lychee foam, raspberry cream and fresh grapefruit that broke into the sweetness of the dish perfectly, sphere of grapefruit and grapefruit ice cream
Paris-Brest and marshmallows
LE XVIIème
6, rue Claveau
49100 ANGERS
t:+ 33 (0) 2 41 87 92 27
le-dix-septieme@orange.fr

LA SALAMANDRE
The gourmet restaurant "The Salamander" offers a feast full of flavours served in a beautiful Gothic setting. This venue is part of the hotel where we stayed.
"The Salamander" : An amazing venue for our first dinner in Angers
silky Mushroom volute with crisp fish croquette excellent starter
Foie Gras – always good in France
Duck: ballotine and heart mushrooms, thigh braised then breaded on potato fondant full of textures and very generous dish
The cheese trolley at "The Salamander" was amazing
Cheese: galet de Loire, Comte, Italian hard cheese, goat cheese,
La Salamandre
1, Bd Foch
49100 Angers
t: 02 41 88 99 55
www.restaurant-lasalamandre.fr
Accommodation
I stayed at
Hôtel d'Anjou
1 Boulevard du Maréchal Foch, 49100 Angers, France
How to get to Angers
Eurostar from London to Lille about 1.30mintes and a quick platform change and carry on to Angers for another 3hours and 20 minutes.
Book your tickets here: Voyage SNCF
The VIP room at St Pancras
Delicious meal by Raymond Blanc on board of Eurostar from London to Lille
Travelling from Lille to Angers by TGV
Next adventure: Travelling to Nantes
waiting for the train to my next adventure: Nantes – only 40 minutes away!
Until next time why not join me on Instagram, Twitter and Facebook…X
Disclosure: I was a guest of Pays de La Loire Tourism Board and ATOUT FRANCE on this trip. All views are my own.