Nantes
The city of Nantes lies on the Loire River, Upper Brittany region of western France. It has a long and intricate history as a port and industrial centre. Nantes is the capital of the Pays de la Loire region and the Loire-Atlantique département. It's also the home to the restored, medieval Château des Ducs de Bretagne, where the Dukes of Brittany once lived.
View over Nantes and the Loire
Exploring Nantes
Walking around Nantes you will notice a green line on the floor. An urban route of 12 km, painted on the ground. The Voyage à Nantes is a permanent trail of over 40 installations, linked by the green line; it's an event brought to life every year during the Summer. Next year dates: from 1st July to 27th August 2017
A walk around Nante's historic city centre is a must. A good way to find out about the fascinating city architecture and soak up the atmosphere.
The medieval quarter includes the Saint Pierre & Saint Paul Cathedral, the château of the Dukes of Brittany and Bouffay square L'Ile Feydeau, a mark of the city's maritime past in the 18th century. The 19th century quarter includes the Pommeraye Passage, Graslin Theatre,  Cambronne square
Passage Pommeraye
Passage Pommeraye
Debotte in Nantes
CHOCOLATE SHOP DEBOTTE (9 rue de la Fosse)
This firm is part of the heritage of Nantes, and this listed national heritage (1870) shop is opulently decorated with impressive chandeliers, marble floors and a circular velvet banquette where Nantais have waited while their orders were filled since 1823. Handmade specialities include macarons (finely ground chocolates encased in a dark chocolate shell) and the rainbow boiled sweets.
Debotte in Nantes
The most beautiful sweet shop ever! Debotte in Nantes
Le berlingot
macarons Nantais (finely ground chocolates encased in a dark chocolate shell)
RIGOLETTES SHOP (18 rue de Verdun)
In 1902, Charles Bohu created a new candy that he christened Rigolette, an homage to his cat. Nowadays, this sweet shop is located in Verdun Street. There are five original flavours: pineapple, blackcurrant, lemon, raspberry and Tangerine in addition to new features, such as chocolate and salted butter caramel and  Praline.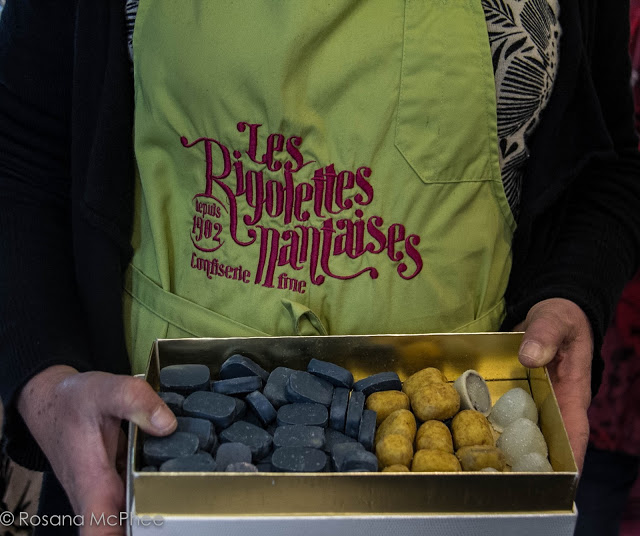 le Lieu Unique
walking by the canal
Located alongside the canal St Felix this building used to be an old biscuits factory. A national centre for contemporary arts and music venue in Nantes. You can find a very busy bar, theatres, a hammam, a day nursery and a bookstore.
le Lieu Unique
Quai ferdinand favre
44000 nantes
t: 33 (0)2 51 72 05 55
http://www.lelieuunique.com/english_presentation.php
Château des Ducs de Bretagne
www.chateaunantes.fr

Once the home of the Dukes of Brittany between the 13th and 16th centuries, subsequently became the Breton residence of the French Monarchy. This large castle served as the centre of the historical province of Brittany until its separation in 1941. Nowadays, The Château is now a local history museum with multimedia exhibits, as well as a walkway atop its fortified ramparts.
Ten years after its original conception the has a profoundly transformed with a micrographic tour on offer.
This chateau has been listed as a  historical monument by the French Ministry of Culture since 1862.
Market:  Talensac
The oldest market of Nantes housed
in a covered building, with some stalls outside selling bric-a-brac to
fruits and vegetables. It is the town's biggest market, open every day
(7am-1pm) except Monday. Don't miss its stalls overflowing with
langoustines and lobsters, bread, cakes, wild mushrooms,  prawns and
crabs, market garden produce, wine and lots more edible goodies.
Where: Place Talensac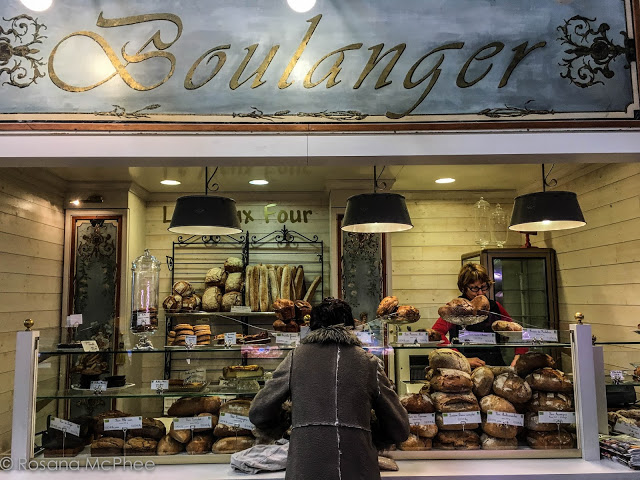 l'île de Nantes

Ile de Nantes, a new metropolitan centre and one of the biggest urban renovation enterprise in France. Sitting by the Loire river, l'île de Nantes spans 350 hectares, situated opposite the historic city centre.
The symbolic Nante's naval history has contributed to the west side of the island to become an attractive tourist and cultural hotspot where many of Nantes' fairs and festivals are held.
Some places of Interest:   the rings of Buren and Bouchain (work from the Estuaire contemporary arts festival), the banana warehouse, the François Mitterand Quay, the builder's yard park and its 5 gardens, he Titan crane, the Prouvé station (from the Estuary Festival), La Fabrique creative centre, the Machines de l'ile, the Manny building, the Jean Nouvel Palace of Justice and L'Absence by the Van Lieshout studio
The Machines de L'Ile
The great elephant
The Machines de L'Ile – the great elephant
The Machines de L'Ile – the great elephant
This mechanical elephant stands just over 12 metres high. When it moves, the 49 passengers feel as if they are on the 4th floor of a building.  It looks fun!
Carrousel des Mondes Marins 
Carrousel des Mondes Marins
This unbelievable 25m tall merry-go-round is set over three levels representing the ocean like the water, ships, sea creatures and the surface of the sea. There are 35 moving mechanical creatures, guarded by 16 fishermen from differents parts of the world.  It is great fun going around for both adults and children. A must visit for families.

Eating  and drinking in Style in Nantes
Le Nid  –Jean Jullien
Weighing 80,000 tonnes and soaring at 144 m, the Tour Bretagne is the third highest building in the region.  There's a lift that takes you directly to the 32nd floor which offers a magnificent  360° view over the city.  Designed by Jean Jullien, a young prodigy in the international world of graphic arts, the atmosphere is fun and relaxing.  An enormous white bird curls around the terrace; furniture inspired by the animal world welcomes you to this unique space. There is a bar serving cocktails and soft drinks to the very diverse public.
Le Nid  bar
Le 1
This stylish eatery attracts an upmarket clientele.  It's a chic and modern restaurant with views of the Loire River. It also has an open kitchen, which allows the customers to witness chef Jean-Yves Massonnet's culinary art, up-and-close.  Expect lots of seafood and fish from the sea and the Loire itself.
Foie Gras  cooked served with prune sauce and sourdough, Asian salad and some delicious wine
Le1 – open kitchen
steak tartare and fries
The house special: Grand Marnier souffle – so light , tasty and boozy – made for me!
café gourmand, an expresso and small selection of desserts – perfect!
Le1
1, Rue Olympe de Gouges
44200 NANTES
33 (0)2.40.08.28.00
http://www.leun.fr
Pickles 
This dazzling new restaurant is run by a visionary English chef, Dominic Quirke, and it lives up to its word-of-mouth reputation.  Dominic Quirke forged his own culinary path using local and seasonal ingredients to create ethnic dishes, made with precision and often with unexpected matches.
Expect on the menu salmon, miso, cucumber pickles, horseradish yoghurt, nori; lean roast beef,  sesame rice, chestnut crumble and emulsions.
Interesting starter: chorizo, peas, coriander flower and peanut
Foie Gras, shiitake dashi,  quince, lemon and carrot puree, black lemon  – lovel clean flavours
light and full of flavour cod, celery 2 ways, carrots from dear friends suppliers Annie et Olivier and ratte (loca potato) smoked
a delightful selection of British and French cheeses
Chocolate mousse and caramel, an intense buckwheat ice cream that resembled toasted bread or  hoppy beer and cumin – I reall enjoyed the ice cream
Pickles
2 rue du Marais,
Nantes
33 (0) 2 51 84 11 89
pickles-restaurant.com
Les Table de Nantes
The table de Nantes'(www.lestablesdenantes.fr in French and English) is a guide to discovering local cuisine and wines in restaurants chosen by locals. In total, there are 120 addresses, from healthy fast food to gourmet listed in Nantes, greater Nantes and the out-laying vineyards
HTTP://WWW.LESTABLESDENANTES.FR/EN/
Accommodation:
L Hotel
6 rue Henri IV
t:33 (0)2 40 29 30 31
www. Nanteshotel.com
lovely breakfast
Conveniently situated in the historic centre of Nantes, L Hotel is near the Train Station, the Congress Centre, and the heart of the city. Lhotel is a 3* boutique hotel, with its own unique personality reflected in its stylish, contemporary design.
How to get to Nantes:
BY AIR
To Nantes:
->City jet from London City Airport and Cork
-> Easyjet from Manchester and London Gatwick
-> Flybe Birmingham, Manchester and Southampton
->BMI from regional and Easyjet from Bristol
BY RAIL
To Nantes
You can book London to Nantes with Voyages.sncf.com (with one change in Paris from Gare du Nord to Gare Montparnasse,  December 2016)
From Paris:  pending on the train 2-3 hours
Until next time why not join me on  Instagram, Twitter and Facebook…X
Disclosure: I was a guest of Pays de La Loire Tourism Board  and ATOUT FRANCE on this trip. All views are my own.
Save