Normandy is home to three Michelin-Star restaurants, and I was lucky to dine at two of them on a Normandy food trip. The Le Manoir du Lys near the beautiful town of Bagnoles-de-l'Orne and La Renaissance in Argentan, are both situated in the Orne department in northwestern France, and both are within hotels.
Something is fascinating about fine dining, the years of training, techniques, and the love that the chefs put into the recipes to deliver a stunning meal. Craft and passion come together, and I appreciate the hard work and knowledge applied.
I had very different experiences with both properties. Le Manoir du Lys offered a very seasonal menu based on mushrooms; it's a restaurant with a beautiful hotel with great amenities, and the location of this hotel is terrific, set within a forest!
La Renaissance is also located within a hotel in Argentan; from the outside, it has a city vibe, and the interior is both modern and sleek. It has a beautiful bar and of course — the restaurant!
Le Manoir du Lys
The Andaine forest is minutes away from this property; it feels like you are away from the world. It's very relaxing, and it has an elegant atmosphere.
Le Manoir du Lys  is located in the Normandy countryside, just a short distance from the town centre of beautiful Bagnoles de l'Orne. Head Chef Franck Quinton, a Michelin-starred chef for the past 19 years, was offering a mushroom-themed set menu back in October. He also forages for local mushrooms when they are in season and provides this option for the guests on weekends, too.
The wine matches at this meal were exquisite thanks to Head Sommelier Yvon Lebailly.
THE HOTEL
I stayed in the main house, which has 23 rooms. Each room is uniquely decorated. It uses fabrics on the walls, which gives the rooms a different textural atmosphere. The furniture is strategically placed and works in harmony with the lighting. This property is nicely designed, and I loved my balcony overlooking the swimming pool! It is a great place to stay near the very stylish town of Bagnoles de l'Orne.
The Michelin meal at Le Manoir du Lys

Cep butter, Salted butter and Mushroom bread roll. What a revelation mushroom bread is a thing of beauty
Sparassis crepu (mushroom, also known in the UK as cauliflower fungus), seared foie, toast with Summer truffle caramelised onion in a clear mushroom soup.
Delectable and clear tastes and textures. Sparassis crepu (mushroom) has a sponge texture that contrasted well with the toast and the creaminess of the seared foie gras – the clear soup was so tasty and nourishing. Wine match was Pinot Noir from Savoie.
Grace Duck leg and roasted half breast of duck, leeks, harrisa and blackberry paired with Cabernet Franc from Loire Valley. This dish presentation reminded me a surreal painting. This dish had lots of colours, dots and textures. I love the mix of savoury (meat) and sweet (fruit); It was early autumn, so it was earthy and woody vibe to this dish that echoed the area where the restaurant is located. Nice touch of harrisa that brought a bit of heat. Excellent paired with Cabernet Franc.
Dessert
This is where the mushroom theme menu got really interesting.
Who knew, mushrooms for dessert? To start with your brain gets a bit confused but after a second of degustation it all falls into place, and it works! You have to try it, especially the confit of two mushrooms – delicious. Matched with Chateau Pierre-Bise Coteaux du Layon Beaulieu La Soucherie 2009, a balanced and fruity, tangerine with sweet notes hailing from the Loire.
Mushroom macaron
Trumpé (mushroom) sorbet
Confit of 2 mushroom 🍄 ( Black trumpet mort and chanterelle)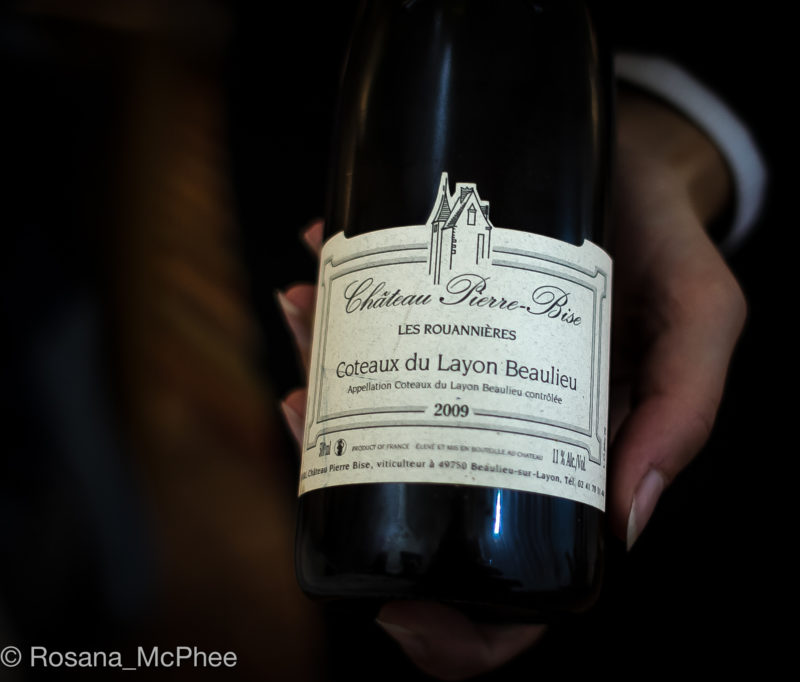 I love an excellent food adventure this meal delivered the element of surprise and challenge. The wine pairings at this meal were superb. Everyone around the table had different dishes and their own wine matching – Great service!
La Renaissance in Argentan
Chef Arnaud Viel and his wife, Cecilia, opened their own restaurant/hotel back in 1998, La Renaissance in Argentan.
After years of hard work, Chef Arnaud was awarded his first Michelin star in February 2016.
It's very much a husband and wife team. He is the accomplished chef, and she's the intense and formidable front of the house; together, they are delivering stellar modern and creative meals in beautiful and stylish surroundings.
The Michelin meal at La Renaissance in Argentan
We had a selection of bread on offer; I enjoyed the apple bread – in keeping with the area of apple and pears! I devoured with gusto the doughnut of mussels – that was very tasty and creative!
Cod, honey, Cream, cauliflower mash, spring onion. The marinaded honey cod was cooked to perfection and what a beautiful presentation. It was light, delicious and very satisfying.
Pre-dessert
Vanilla macaron, Upside-down Apple tart deconstructed and Chocolate malt and fondant . This trio was a delight!
Dessert
In Normandy, they have a sweet, which is a tower of chocolate thin biscuits, chocolate cream, chocolate everything, and this dessert is Chef Arnaud Viel version of this delicious treat topped with ice cream!
For info and place to go read my previous post about more food and drink in Normandy
How to get to Normandy :
The best way to get to Normandy from the UK is by ferry, Brittany Ferries has an overnight service. For more info: www.brittany-ferries.co.uk
For more info on places to visit: The Normandy Tourist Board
Disclosure:  I was a guest of Normandy Tourist Board on this press trip. All opinions are my own.