A review of 'Malaysian by May' by Charles and Rosana
The Team: Dr. G, May (@Slowfoodkitchen), Koreen and Luiz (@TheLondonFoodie)
Another supperclub? I hear you asking. Yes, another one, this time hosted by May
@SlowFoodKitchen
at Luiz
@TheLondonFoodie
, both co-founders of GrazingAsia. I missed two Malaysian cooking clubs by May earlier this year so I moved other commitments to go with Charles, my fabulous non-blogger and close mate, to May's event end of October.  We met with the lovely Nicola in London Bridge for a quick drink and together we headed to dinner. At first, Charles was not convinced about the whole idea, but after some persuasion he agreed to come with me. He also agreed to co-write this post with me to give his views on his first supperclub experience:  '
This was my first supperclub experience so I did not know what to expect. I have heard so much about fellow Southeast Asian May (aka @slowfoodkitchen) and always wanted to meet her in person. When Rosana told me about this upcoming Malaysian supperclub, I was apprehensive. I have my usual haunts for Malaysian food in London, and I am a terrible creature of habit. I also expected the tastes and flavors to be toned down for the English palette, after all, we are in London. I was so wrong! I really enjoyed this supperclub experience, and the food, flavors and textures reminded me so much of my childhood
!'
The Meal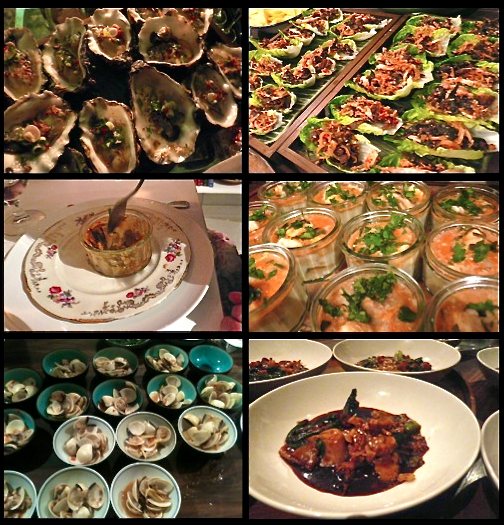 Fresh Oysters with Malaysian Vinaigrette
Charles ate four oysters – he loved them. By the way, he has never eaten raw oysters in Malaysian cuisine before in his own words:' Yum!' . I love oysters, anyway,  so I was very happy!
Nonya Kerabu chicken lettuce cups
Charles ate three portions and  I ate two – we love  salads and vegetables, so this is a good starter for both of us.
Otak Otak – Spicy steamed fish custard
We both agreed it was a little watery but the taste was there and it is really authentic. Spicy enough for me, we heard fellow diners choke from the spice, and that was a sign of, yes, this is done well!
Stir Fried Lala clams
They are not Charles fave (however they are cooked), but these were really nice and spicy too. Charles encouraged our fellow diners to also drink up the soup from the bowl.
Hokkien fried rice cakes with crispy pork lardon
This is a love, love, love dish for both of us. It remind me of my late ex-mother-in-law.  According to Charles: 'It's a dish that brought me way back to my early childhood. As May explained, this dish is very hard to find in restaurants or hawker stalls, even in Malaysia. It's very much a home-cooked supper dish. She also told us there's only one place left in Kuala Lumpur that offers this dish. I will definitely look it up again next time I'm in KL. YUMMY!!!'
Charles never has the habit of having wines with Malaysian food. 'But when in London, do as the Londoners do.' We were very impressed with the wines that we brought along. I asked Luiz for his suggestion and the Riesling  suggested was a winner.  There were two tables one with ten diners and the other six diners and we tasted other guests wines too and vice-versa.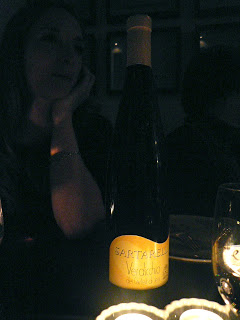 Biddenden – English wine very good by Nicola / Sartarelli Verdicchio dei Castelli  excellent choice by Charles
Leitz –  German Riesling – great match with curries /  Pal Sun – sweet red wine perfect with deserts

Thumbs Up!
Mains:

Nonya Curry Kapitan Chicken

It tasted just like Charles late mom used to cooked it – the real deal. he said: 'I only wish we had baguette (yes you heard it right), baguette to eat this curry with. It's how chicken curries are eaten back home, wiped up with fresh baguette!'

Nonya Prawn and Pineapple curry
We both agree that the curry was a little watery – but the 'assam' taste was definitely there.
Slow Cooked Dongpo Pork Belly – a winner!
Our fave dish of the evening bar none! 'May's menu and repertoire respects all the multi-racial heritage that makes Malaysia a melting pot. This is a definite Chinese Malaysian dish'. So well cooked, we got carried away with this dish, Charles had to loosen his belt and I stood up as I couldn't seat any longer. We were also lucky enough to have been offered takeaway portions, which we enjoyed the day after with May's delicious coconut rice.
Spicy green beans
Very classic vegetable dish, Charles says 'as good as how the hawkers make it back home!'

Mains served with Nasi Lemak : coconut milk rice with Sambal Ikan Bilis, peanuts and cucumber – the business!  This dish is another love, love, love amazing  explosion of different flavors and textures. The crunchy peanuts, the lightly sweet coconut rice, the salty sambal and the fresh cucumber mix works so well together. Fantastic!
Ikan Bilis -Anchovy sambal: dried anchovies, prawn paste, shallots, garlic, tamarind pulp and de-seeded dried chilies
AMAZING!
Ondeh Ondeh – glutinous flour, sugar palm and coconut
&
Pink Coconut Candy
After this unforgettable feast, we really didn't need dessert.  The bite size sweets offered were the perfect ending to our meal. The pink coconut candies remind me of Brazilian sweets. The ondeh ondehs, traditional kuih in Malaysia (kuih is term for Malaysian cakes and pastries), were made on the spot, just as we were having our mains, and we were very impressed with that. Most Malaysian restaurants have ondeh ondeh ready made, so the taste and texture is never the same as freshly rolled ondeh ondeh. Charles only small comment was: the dough was a little bit thick, a slightly thinner roll would have made this a 100% perfect ondeh ondeh. I loved the fact that every bite size candy released an explosion of sweetness in our mouths.
£35/per person & BYO –  Charles veredict: 'very good value for money, given all the effort that has been put in, the quality of food and ingredients, and the fact the supperclub host may not necessarily do this full time, and diners need to be aware of how difficult it is to pull off a great supperclub like this one'. My Veredict:  I found quite difficult to choose my favorite dish. I really enjoyed all of them. What a feast! Don't miss out and go to May's next supperclub! Thanks May for the superb meal.

Save