Ice cream – scrumptious food! If I had my way, everybody would wear pyjamas, flip-flops and eat ice creams and hot dogs all day everyday. I also like to make my own ices, read on for a chance to win a visit from the Fairy Hobmother all will be revealed and it will make sense. If you are impatient just quickly look at the pretty pictures and get to the bottom of this post. So back to the delicious ice cream parlours I've been this Summer. Here are some of my favourites in no particular order:
London
Traditional artisan Ice cream owned by Argentinian brothers they serve a array of flavours at their outlet in Brixton Market Row arcade.
Pistachio & Banana
Lemon and Strawberry sorb
Finest artisan gelato from the team behind boca de lupo. They serve fresh gelati, sorbets and granitas.
Ice cream burgers, gelato cakes, coffee bar, foccacias and pies, online and on site deli.
Pistachio and Gianduja
W1
T: 020 7287 5555
Artisan fresh natural Italian gelato made in the Bute Street, South Kensington,
Premises daily. They also serve coffee, ice cream sandwiches and cakes.
Flavour Salted Caramel and Pistachio
making ice cream in the premises
Tel. 020 7052 0732
Argentine ice cream parlour contemporany purple deco, Mayfair ice cream parlour also sells soup, cakes, sandwiches, tortillas and pancakes.. They also have chocolate and dulce de leche dips. They are open till very late.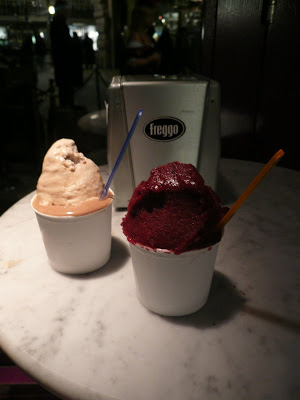 Malbec & Berries and Dulce de Leche