Sardinian Supperclub
Better late than never!  It's been busy and only now I had time to publish this post…This adventure took place last Sunday of September last year, I didn't have to cook, not that I don't like cooking, but it's so nice when some else takes over to pilot the stove.  I love the element of surprise that comes with going to a supperclub. Who is going to be there? Have all gone according to plan? And finally, reading the final menu.
I often don't have very high expectations, as they are usually hosted in someone's house, it's casual and the food can't either be a winner in high quality and creativity or just excellent home cooking meal, that's nothing wrong with that either.
I've been to many supper clubs; they've all been different experiences. The first supperclub I went to was a pay what you think it's worth; then I went to a brunch in Brixton, with majestic lemon cake and fantastic fresh scones.
Another good experience was the French laundrette at £2.50/head a fabulous take on French Laundry by chef Keller at Harrods pop-up at £250/ head. It was a success by then we all knew Sabrina Ghayour the brains behind the French Laundrette would go far.  I went all the way, far out Croydon for a fab Mauritius Supperclub, what's that worth it? Yes! Brilliant food, I still want that fish stew recipe!
I even helped out in some of them. I went back to the brunch in Brixton was my first helper experience, then the amazing and epic Japanese Supperclub by Luiz Hara, aka The London Foodie,  and the sweetheart Tiff, Mexican Supperclub. I can tell you it's exhausting but so rewarding.
People ask me all the time: what's your favourite Supperclub? I can honestly say they all had their highlights; I won't go through the lows as they have been minimal. All I can say is that  there is always food! I never went hungry, so in my book that's already a winner.
Some are more fabulous than others, but there's no comparison as the menus are worlds apart.  I even co-hosted one, Tilda basmati rice Brazilian Supperclub,  that was tiring and exciting.  There's a long list of supperclubs, I attended at the bottom of my blog.
One Supperclub that I always look forward to,  perhaps because there are only 2-3 a year, and  it's dished out by my good Italian blogger friend Federica and her lovely sister Luci.  The Italian Supperclub is charming and well executed. I am always amazed by the amount of research and work that goes into it –  it's staggering!  Every dinner showcases different parts of Italy, with specially sourced ingredients from her homeland, the recipes are a mix of authentic famous and  some obscure and old fashioned recipes from the region in question.
The last one was Sardinia, what a treat it was!  All proceedings are allocated to a charity of the region.
Sardinian Supperclub
Canapes (in the garden)
artisan salami, fresh salami sausage made by Sardinian relatives and pecorino sardo maturo made from fresh whole sheep's milk curdled using lamb rennet., a local cheese bought from Delicatezza
Amuse Bouche
Crema di pecorino (the island's cheese, made into a delicious white cream), pane guttiau (crunchy flatbread with olive oil and rosemary) and mustela, a local lean pork ham prepared using pork loin and local herbs, tender and lean). The pork was sourced at capocaccia, while the flat bread and cheese cream came directly from Sardinia (Fede's travels)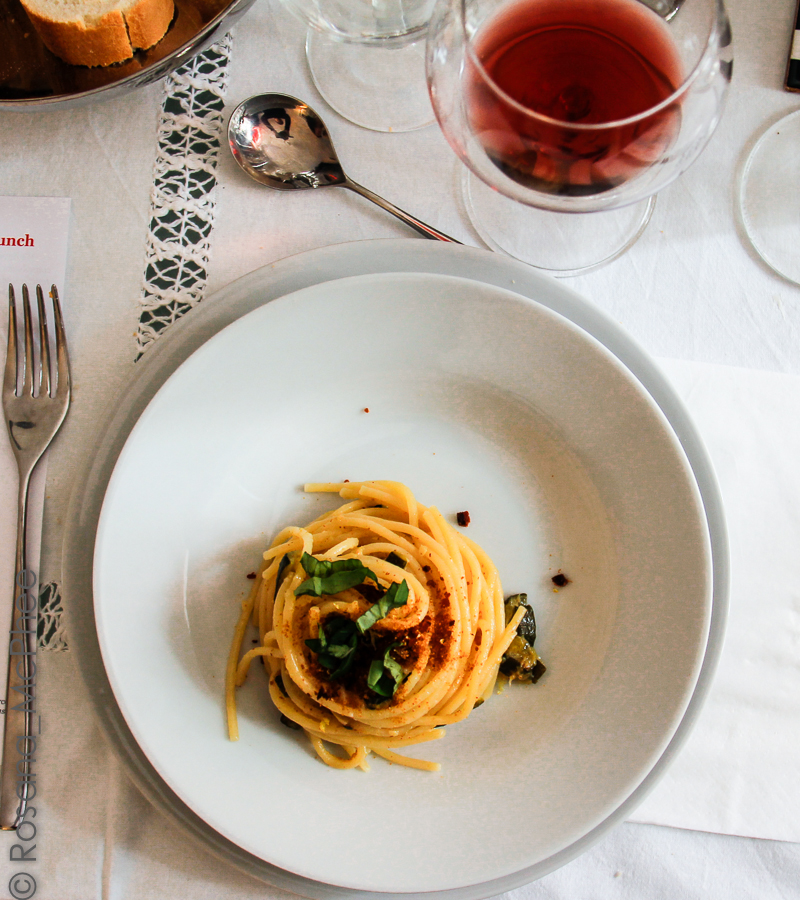 Spaghetti con bottarga e zucchine
Slightly
revised, another traditional local dish, spaghetti with salt dry roe, lemon
zest and courgettes. The roe is produced on the island and salted, then
eaten either ground (in pasta) or thinly sliced on bread. In our pasta,
you had both types. Product was bought by Federica directly from the island
 Malloreddus alla campidanese
Sardinian
dry pasta in the shape of gnocchetti (small gnocchi) with a rich tomato
sauce made using Italian fresh sausage (also from Delicatezza), saffron
and then plenty of two grated pecorino cheeses from
Capocaccia: a dryer, Parmesan like sheep pecorino and a black pepper
one, slightly fresher. I love the gutsy taste of the sauce. Pasta cooked to perfection.
slow belly pork in the oven, the smell filled the house and made me hungrier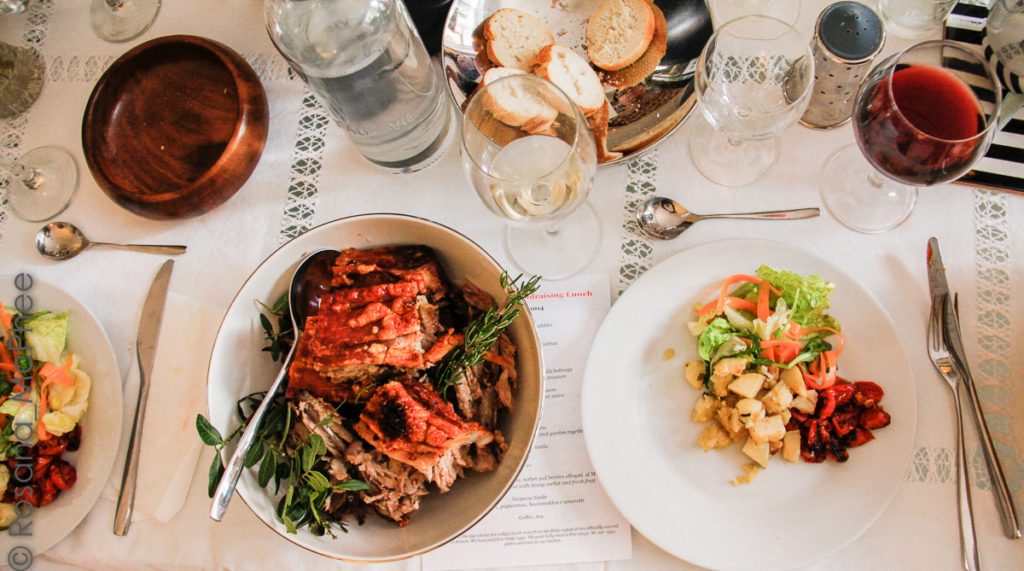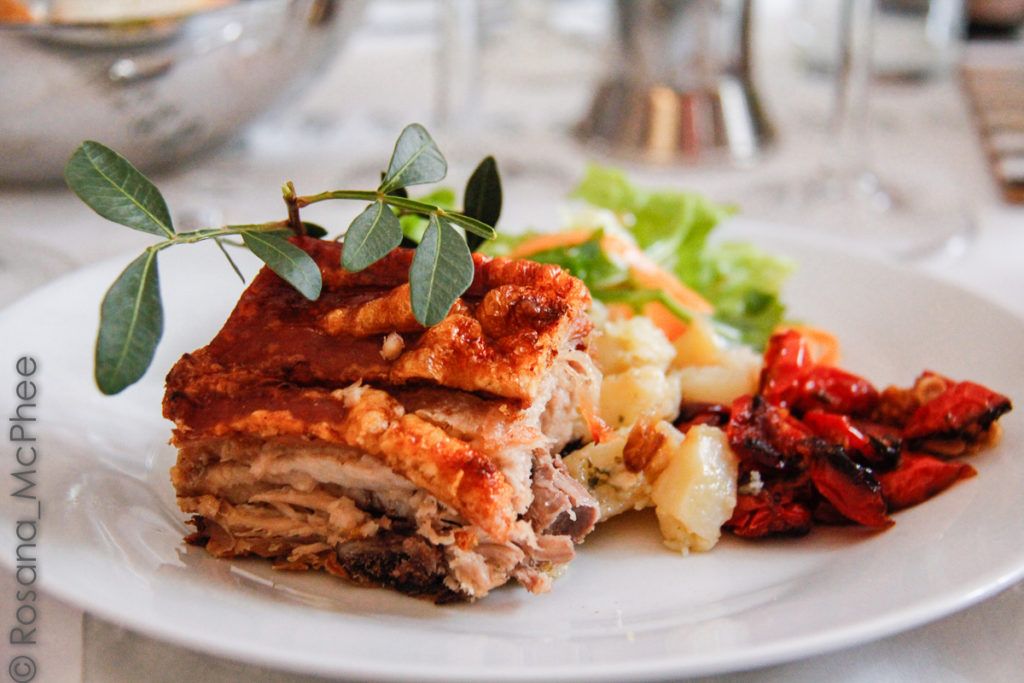 Porceddu
This was Federica's take on the island's distinctive suckling pig which is spit slow roasted on open fires. Lacking that, she made slow roasted pork belly (donated by Abel & Cole), flavoured with leaves of myrtle, the beautifully aromatic island's plant, which she brought over from her trip back in June. Apparently it freezes well.
We also had mixed salad, roast potatoes and another recipe from the island, roasted tomatoes with Mediterranean herbs.
mixed berry sorbet donated by Scoop – to die for!
palate cleanser
a wonderful mixed berry sorbet was kindly donated by Scoop Gelato  and Sardinian Mirto, the liqueur made with the myrtle plant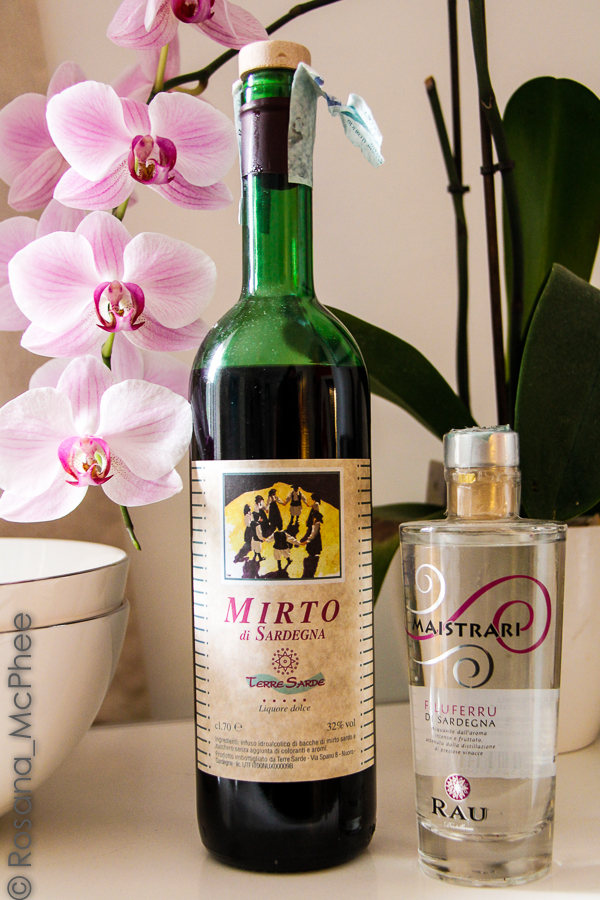 dessert! Federica's own recipe for a classical ricotta cake, called Torta Pardula. Served with blackberries macerated in.. Mirto! by now I died and went to cake heaven!  recipe here: Fede's ricotta cake
Finally, beautifully handmade Sardinian cakes (by Luci's boyfriend's mum): amaretti, pardulas, papassinos.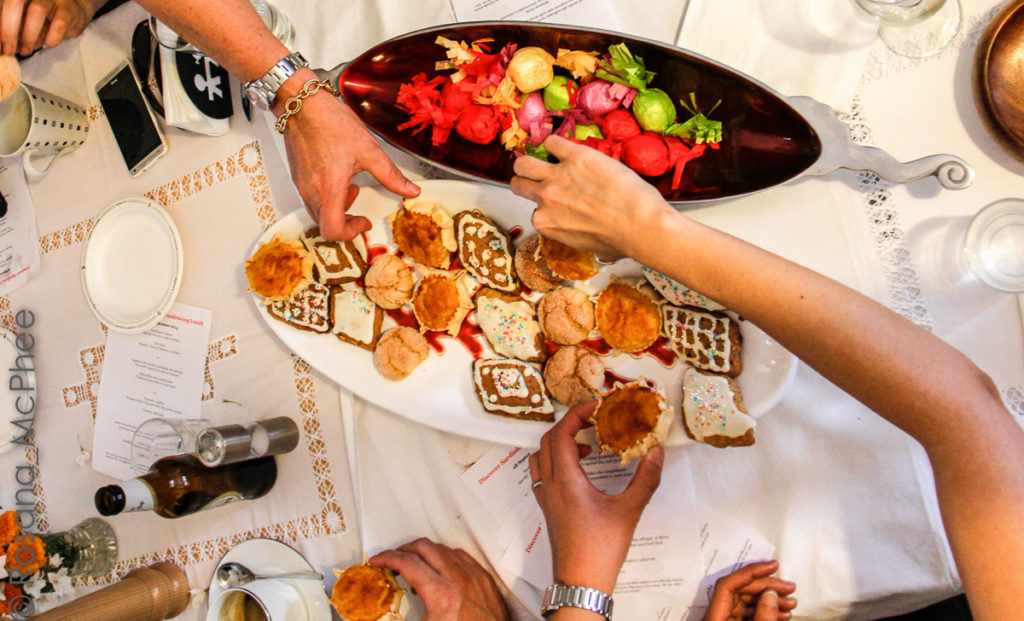 amaretti, pardulas, papassinos
all this deliciousness for £35, BYO
What else can I say? Keep your eyes peeled for the next serving of Italian food love. Follow Federica for more info and next supperclub contact: PastaBites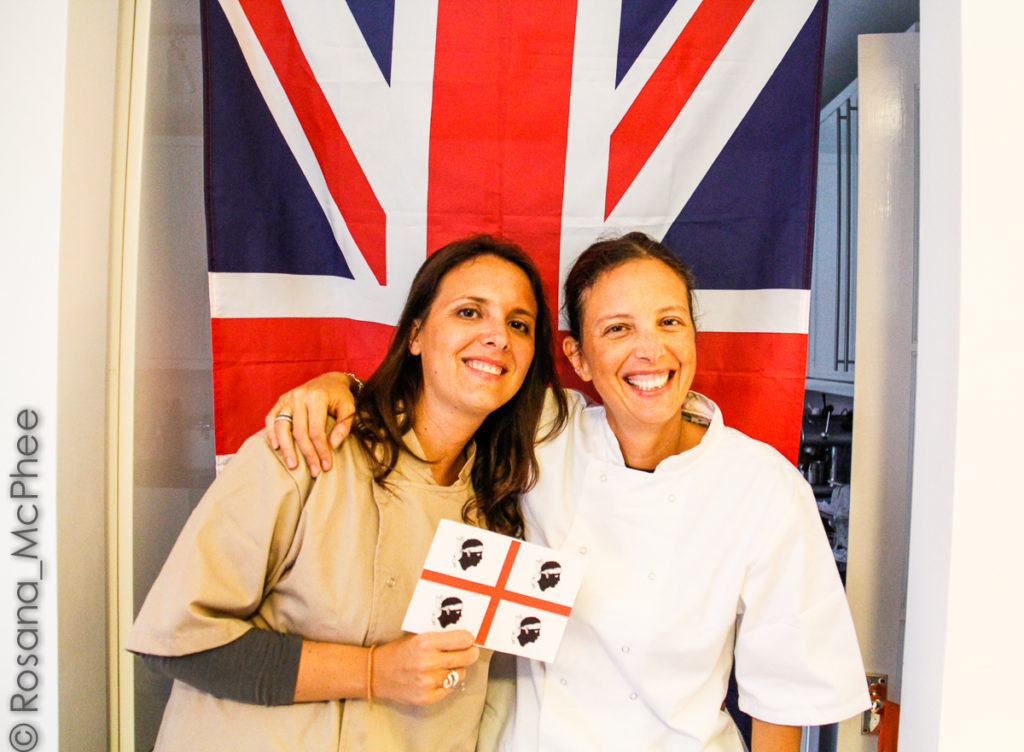 Luci and Fede
Save