Porto
After my little adventure in Braga and Guimaraes, the next stop in Portugal was Porto, a fabulous city with so much history and things to see, do, drink and eat!
Exploring Downtown Porto
Familiarise yourself with the city by touring the downtown area,is in my opinion the best way to go about in a new place. As you pass through the old and narrow streets, you'll see the beautiful landmarks that ornament the town. Marvel over the famed Clerigos Tower or the UNESCO World Heritage 3rd place winner, LELLO bookshop. You can also experience the local beauties such as the old boutiques and shops and vibrant squares.
Lello Book Shop in Porto
Lello Book Shop in Porto
S. Bento train station in Porto
São Bento train station in Porto
Once you reach the Candido dos Reis and Galleria de Paris streets, you can enjoy Porto's premier night scene. This contemporary quarter contains the trendiest establishments, including modern cafes and shops. I love stunning architecture so Sta Catarina street, was perfect to soak in the atmosphere, shops and relaxing at stunning at Majestic Café. It is a must to visit the S. Bento train station as well. Here, you can appreciate authentic Portuguese tiles that are affixed all over the walls.
Very elegant Majestic Café in Porto
A visit to Palacio da Bolsa, located right in Porto's centre, ought to be on the top of your list. The whole building is an artistic masterpiece, and indeed, represents the beauty of the city with its remarkably designed Hall of Nations and Arab Room.
Palacio da Bolsa
Palacio da Bolsa
Take A Cruise for a Different Perspective
For a unique experience, take a cruise that transports you past the six Douro bridges. I enjoyed a lovely aperitif on the deck and watch the city come alive amidst its impressive architecture from the water. We enjoyed this tour with
Feeldouro – river cruise.

Porto as viewed from the Douro
Tiles in São Pedro da Furada
After the riverboat, we enjoyed a stroll in Sao Pedro da Furada where almost every building is covered in tiles – I went completely nuts over this place! This little and traditional fishing village is absolutely unique and it has been created as such. Its patron saint is Saint Peter, hence the name São Pedro, the equivalent in Portuguese. I loved the diversity of the tiles!
But before the tiles we found this old fashion place were the ladies of the village wash clothes by hand still to this day – what a fabulous find!
Ok now for the tiles ….
This Portuguese lady was showing me tiles of religious image on the balcony next door

Tiles in Sao Pedro da Furada, Porto
Porto's Impressive Art and Music Collection
Serralves Foundation
The Serralves Foundation is located in Porto and is currently the country's foremost cultural institutions and the largest of its kind in Northern Portugal. It has been classified as a Building of Public Interest since 1996, and the entire architecture and landscape of the foundation has been declared a national monument since 2012.
On the premises, you'll find the Museum of Contemporary Art, designed by Alvaro Siza and built in the 1930s. You can also view the breath-taking gardens that Jacques Greber beautifully designed, as well as the official Serralves Villa, an Art Deco masterpiece.
Casa da Musica in Porto
Casa da Musica was constructed to commemorate the year 2001 when Porto became the Cultural Capital of Europe. It's a relatively new building, and the first one in modern history to be entirely dedicated to the public enjoyment of music. Currently, the establishment nurtures both music education and creation. In 1999, Rem Koolhaas and Ellen van Loon of the Office for Metropolitan Architecture submitted their designs, which eventually won the competition. Following this success, construction began on the original site of the central tram garage on the Rotunda da Boavista. The music building officially opened years later, in 2005.
A Unique Tour via Classic Car
Take up an offer from Classico Porto, which offers unique services throughout the city utilising vintage vehicles. You can enjoy an excellent city tour, or even have one custom-designed especially for you. All car are driven and handled by trained and uniformed personnel, which ensure both the safety and comfort of their passengers. If you want to try something different, this is definitely a must.
Food in Porto
The Portuguese cuisine is very diverse due to its vast empire in the very distant past. Portuguese influences are very high in Brazil – where I was born, as well as in India, in the Chinese territory of Macau and in the Indian province of Goa, with dishes such as vindaloo curry.
The Portuguese traders brought products and ingredients from all over the world to Europe, and they have influenced many cultures in return. That's very apparent in the menus and recipes in Portugal.
Here are a few places worth mentioning to try tasty Portuguese fare in Porto
Fish Fixe Restaurant
Ribeira do Porto boasts this famed, traditional restaurant along the river Douro. Enjoy an outstanding view and try some Northern Portugal specialities.
We eat so well in this place! A real traditional Portuguese fare with stunning views of Douro

splendid view to Douro
Our Meal: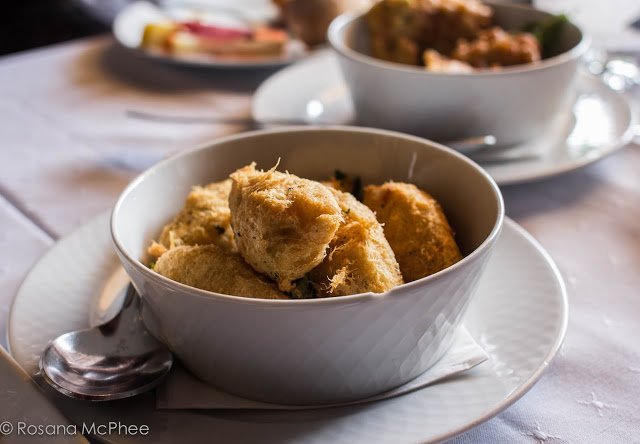 Bolinho de bacalhau
Arroz de marisco – Seafood rice
Salada de Polvo em molho verde – Octopus salad with parsley and olive oil
Bolinhos de Bacalhau – Fried Codfish balls mixed with smashed potato, and parsley
Pataniscas de bacalhau – Fried Codfish with flour (sort of tempura)
Mexilhões – stewed mussels in olive oil and garlic
Salmão fumado – Smoked salmon
Arroz de marisco – Seafood rice
Desserts : egg pudim and pumpkin custard tart
Cais da Ribeira, 9, 4050-509 Porto, Portugal
Os Lusiadas
If you're craving fish and other seafood, look no further. Os Lusiadas, located right next to a major fishing port in Matosinhos, offers mouth-watering seafood options that are fresh and local. The name was chosen to pay homage to a poem written by Luis de Camoes, who is considered a national treasure in Portugal. This 16th-century masterpiece describes explorer Vasco da Gama, who travels the seas en route to India.
Our meal:
Misto de marisco c/ percebes, ameijoas à "Bulhão de Pato" e casco de
sapateira – Seafood mix with barnacles, stewed clams with garlic and
olive oil and crab
Robalo ao sal com batatinha murro e legumes salteados – sea bass in salt with smashed potato and salted vegetables
One of my favourites sweet treat from Portugal – Fios de Ovos(candied egg threads) served with orange slices- read more about it: Fios de Ovos
OS LUSIADAS
Rua de Tomaz Ribeiro 257, 4450-297 Matosinhos, Portugal
Exquisite Porto Wine
Enjoy a taste some truly lovely wine at Taylors Port Wine Cellars. Founded in 1692 by Englishman Job Bearsley, this winery is family owned and managed still to this day. Not only can you savour a delicious drink, but will be granted an incredible panoramic view of Porto when you get to the terrace.
Another place to have a meal and taste Port is at Graham's Port Vinum at Vila Nova de Gaia
Graham's Port Vinun restaurant views over Porto
Our meal:
our meal as extremely well presented with wines to match
Cod appetizer and a easy drinking Porto tonic
STARTER: a great vegetarian dish Salada de feijão branco, tomate seco e queijo com manjericão – White beans salad, dried tomato and cheese with basil topped with rocket
MAIN: Lombo de Bacalhau com caldo verde – codfish with caldo verde topped with mayo brûlée – love this combination of traditional Portuguese recipes.
arte fina de maçã – thin apple pie with vanilla ice cream – light and satisfying
tasting some more Port, Dow's white is floral, raisin and honey on the palate – fantastic!
Vinum
Rua do Agro 141, 4400-281 Vila Nova de Gaia, Portugal
Porto Cruz

The winery is also home to the Porto Cruz Space, a project aimed at celebrating the city's wonderful wine cultures and traditions. Here, you'll have access to information, exhibitions, and leisure activities related to Porto wine. The project has transformed perceptions of the wine itself, integrating its culture with various other branches such as art, gastronomy, and fashion. More delicious Portuguese fare:
Bacalhau à Brás – fried sliced codfish and potatoes mixed with onions and egg
Legumes Salteados com queijo de cabra – salted vegetables com goat cheese
Cavala fumada com escabeche de cebola – smoked mackerel with fried onions
Cogumelos salteados com Porto – salted mushrooms with Port Wine
Morcela da beira com maçã e cebola – smoked blood sausage with apple and onion
Sericaia – egg pudim/tart in this case served with plum and syrup – recipe
PORTO CRUZ
Largo Miguel Bombarda 23, 4400-222 Vila Nova de Gaia, Portugal
Accommodation: I stayed at
Sheraton Hotel & SPA in Porto
R. do Ten. Valadim 146,
4100-476 Porto, Portugal
Sheraton Hotel & SPA
PIN for Later
For more information about Northern Portugal, please head over to: Visit Porto and North
TAP airline Portuguese National airline flies direct from London Gatwick to Porto twice daily; prices start at £89 return including all taxes and surcharges. Visit www.flytap.com or call 0345 601 0932.
Until next time why not join me on Instagram, Twitter and Facebook…X
Disclosure: I was a guest of Porto and Northern Portugal Tourism Board on this trip. All views are my own.