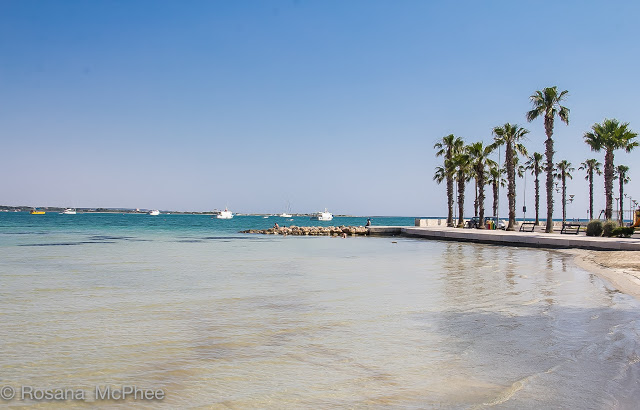 Porto Cesareo
Eating and drinking in Puglia, Salento
We had some excellent eating and drinking experiences in Salento. Not only this region is picturesque, but their food and wine are absolutely fantastic. Salento Wine Tours  took us to some amazing places  in the region. On arrival in Puglia, we stopped at Porto Cesareo. 
Porto Cesareo
Porto Cesareo is a town and comune in the Italian province of Lecce in the Apulia region of south-east Italy.  The area around  Porto Cesareo is a beautiful example of "macchia shrubland", densely growing evergreen shrubs.  Tourism in Porto Cesareo is vital for the region. The shallow sandy sea remains low for tens of meters, and the transparent waters reminded us of the Caribbean sea. The coast is characterised by many capes, islets and reefs.
We had a fabulous meal at L'Aragosta da Cò in Porto Cesareo overlooking the Ionian Sea. There was plenty of fresh fish and seafood matched with the wines of Salento. Stunning views and delicious food, we couldn't ask for more.
Some of the scrumptious food we sampled at  L'Aragosta da Cò:
Courgette white fish Sarago and courgette mousse
Polpo alla pignata  with tomato chilli served with fried bread – amazing!
Tuna tagliata
Pasta with sea urchin and shrimps
with Leverano wine : Negroamaro 100% intense Rose, it has fruity and strawberry notes with low acidity
Platter of  Misto Fritto – seafood
We also had Polpo a la Catalan and delicious  Mussels gratin (above)
Spumone: Ice cream with pistachio and caramelised nuts
L'Aragosta da Cò
Via Silvio Pellico, 38, 73010, Porto Cesareo, Italy
Campi Salentina
Campi Salentina is a town and comune in the Italian province of Lecce in the Apulia region of south-east Italy. We stayed just outside the town about a ten minute drive away.
While in Campi we experienced some really stupendous food and wines. First stop was at Baccanera Restaurant, Enoteca and Pizzeria in town.  It was a balmy night, so an  'al fresco' meal was very welcome and the patio was magical with lights, beautiful plants and flowers.  The open pizza oven faces the restaurant floor, so we could see the bread and pizzas being baked in seconds.
Our meal at Baccanera
Couscous veg, capicolla charcuterie Martina Franca, Puglia stracciatella cheese
Aubergine
tower different presentation of parmigiana   and Panzerotti – potatoes
cheese and mint bread crumbs (crust)croquette (off the picture)
Malvasia Bianca wine from  Brindisi area a native Italian grape
Orecchiette pasta basil olive oil Salento formaggio ricotta (Sheep cheese)
Misto Fritto di Carne
Oltreme red wine, Salento IGT,  varietal: Susumaniello,  dark ruby colour, aromas of red berries and plums. It's a rich with spicy, peppery aromas that went down really well with the Misto di Carne
semifreddo with hot chocolate sauce
Baccanera
Largo Cuore di Maria, 9, 73012 Campi Salentina LE, Italy
Pasticciotto Leccese – Pasticciotto is a typical dessert from the Salento area of Apulia,
consisting of pastry filled with custard and baked in the oven. Thanks  to Chef Angelo
Bisconti from Pasticceria Chèri for this fabulous tray of assorted  Pasticciotto
A Gourmet dinner at Verdalia's gourmet restaurant Folie
amuse bouche
The location of Verdalia is beguiling; it used to be a quarry which has now been transformed into a unique dining/events venue.  Folie is Verdalia's gourmet restaurant. Folie has only 24 seats which offer a refined and intimate ambience, ideal to fully appreciate the creativeness of Executive Chef Antonio Raffaele. Count on exclusive and impeccable service and a premium wine list; we had exceptional wines from Salento.
The Folie is a place for food lovers, where you can find cuisine that speaks of the Mediterranean culture, seasonality, hints of traditional recipes and surprise interpretations by Chef Antonio Raffaele.
Frisa Leccese – modern twist on a Puglian dish
Carnaroli rice, pistacchio, shavings of dark chocolate, Sarawak pepper and anchovies cream
Juicy and tender Beef sous-vide with Negroamaro reduction and saffron potato cream
Palate cleanser: refreshing Semifreddo con Menta e Basilico
A selection of pastries  and sweet galore from the Chef!
Folie
Strada Provinciale Lecce – Novoli, Km 7, 73100
Villa Convento, Lecce LE, Italy
Phone: +39 0832 328259
L'Orecchietta in Guagnano
Pictoresque Guagnano
Salento's ancient tradition of producing fresh homemade pasta. This place sells fresh pasta and also offers pasta making courses.  We learnt to make Orecchiette, maccheroncini and focaccia.  We also had an excellent spread.  A visit to L'Orecchietta is a must when in the region.
food at L'Orecchietta
making fresh pasta at L'Orecchietta
L'Orecchietta
Via Vittorio Veneto, 49, 73010 Guagnano LE, Italy
Phone: +39 334 722 0264
Osteria Origano in Minervino di Lecce
The Osteria Origano, founded by Gaetano Marangelli (a local, celebrated winemaker), it is a jewel in the historic centre of Minervino di Lecce. Their menu offers traditional Salento cuisine with a small modern twist.  The place is beautifully decorated and warm, a welcoming atmosphere in a Mediterranean-trendy style.

Burrata tomato cream fried bread
Octopus paprika potato cream rice flour basil parsley crispmatched with
Wine Novementi Rosato
Vegetables bacala red pepper extract (jus)
Risotto negroamaro cheese and peachesmatched with Red
Menhir -80% negroamaro 20%malvasia nera from Salice Salentino
Pancetta BBQ sauce onions paired with  Filo wine late harvest negroamaro 100%
Dessert – Coffee, milk, white chocolate powder, laurel sponge
Osteria Origano
Via Scarciglia, 18
73027, Minervino di Lecce, LE
origano@cantinemenhir.com
Otranto
Otranto, Puglia
The town of Otranto is a mix of history, architecture, views, sea-front restaurants and white sandy beaches – making it one of Puglia's most interesting, charming and scenic towns in the region.
Otranto sits right on the Adriatic sea, gazing out across its eponymous strait towards the Balkans and Greece, a strategic position that has profoundly influenced its history.
Beautiful Otranto
It is one of Puglia's most charming towns and is well worth a visit. The imposing castle has thick perimeter walls and robust towers, built after the town was liberated from the Turks in the late 15th century. The castle dominates much of the municipality before giving way to a small port, a series of seafront promenades with excellent fish restaurants and their very own beautiful white sandy beach with sparkling turquoise waters.
The stunning  Romanesque cathedral, dating back to 1088 and boasting extensive 12th-century-floor mosaics, is another highlight that should not be missed.
Puglia is absolutely beautiful. I can't wait to go back and explore more.
Disclosure: I was a guest of Salento Wine Tours for review purposes. All views are my own
Save