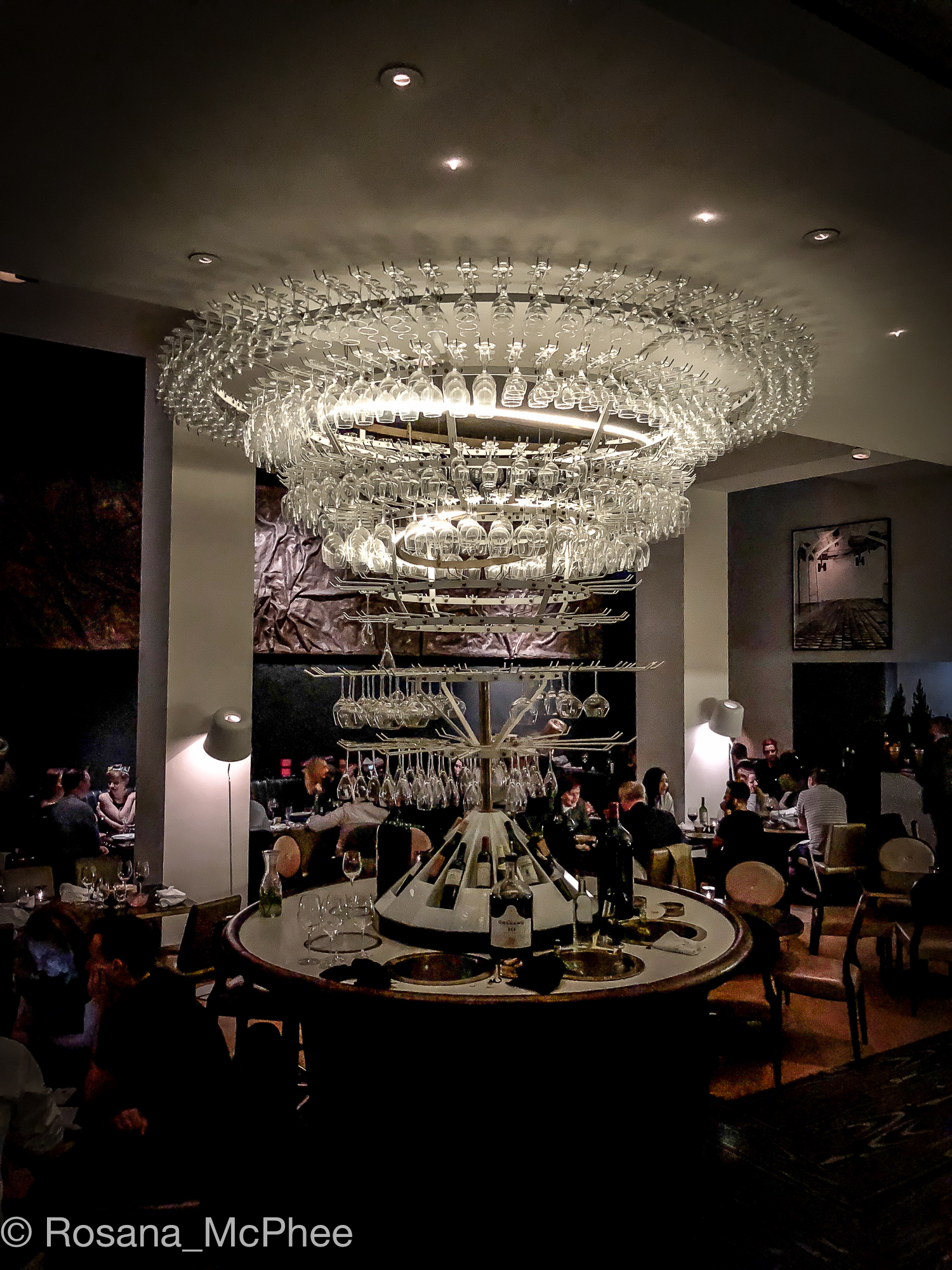 You know you are going to have a good time when you enter a venue and are greeted by a friendly, smiley house front. That's precisely what happened when I arrived at Avenue, a D&D London restaurant and bar in St James. I felt right at home.
Its location couldn't be more central or elegant. Green Park is a few minutes away, and Avenue is in good company—a stellar neighbourhood that includes the world famous The Ritz Hotel.
As you enter the venue, apart from the lovely front of the house, the 112-cover restaurant central focus point is a fabulous illuminated chandelier made of wine glasses.
It was a Friday, and the atmosphere was buzzing. There were constant champagne bottles popping and clinking glasses, the suits were having a Christmas gathering, couples were celebrating, and families were reuniting. It was all happening!
We had the best table in the house where we could observe everyone. The staff worked like a well-oiled engine. They were polite at all times and very attentive to special requests, especially when my companion asked to change one item on her dish. The kitchen staff completely forgot about it, but they rectified it immediately.
The decor of Avenue is contemporary and polished with high ceilings; it feels very spacious and airy. The menu is New American cuisine with Latin American and Asian accents.
Scorched Salmon, picked mouli, wasabi-spiked white soy dressing, wakame powder this dish was so delicious and substantial despite being a small starter – amazing! One of those recipes you want to reproduce at home…
Spiced tunas tarter, tobiko, yuzu emulsion, rice and nori cracker – a good looking and a delicious dish.
300g New York strip loin, chimichurri, charred Romano pepper, roasted garlic – juicy meat and cooked to my liking medium-rare and nicely accompanied by the side of french fries, green beans and wilted baby spinach
Venison loin, spiced pumpkin, honey butter & cranberry jus
The venison was super tender and had a festive tone to it. Lovely!
A warm dense and fudgy Chocolate brownie with a smooth peanut butter ice cream served with 2006 Zinfandel, Edmeades Peril late Harvest, Mendocino Ridge, USA – the perfect ending to our meal.
An excellent cheese selection quince jelly and crackers served with Graham's, Quinta dos Malvedos, Douro, Portugal
Avenue London
7-9 St James's St, St. James's, London SW1A 1EE
Disclosure: I was a guest at Avenue London. All views are my own.