Curry is one of the nation's favourite dishes thanks to the British Army, who brought ingredients back to Britain between 18th and 19th centuries from the Indian sub continent. Some recipes have been reinterpreted and developed for the Anglo palate. The Lord's Mayor's Diamond Jubilee Lunch,
supporting the good works of ABF The Soldiers' Charity,
will be on Thursday 26th April 2012 at the magnificent Guildhall. Up and down the country people are celebrating and fundraising for vital funds for the soldier's charity which supports soldiers, former soldiers and their families. To take part and more info:
http://bigcurry.org
To celebrate the 26th April The Lord Mayor's Diamond Jubilee Big Curry Lunch I cooked a special main by
Shawn Rankin
featured at the fabulous the
Great British Chefs
site. Delicious, delicate flavours and textures makes a great celebration dish.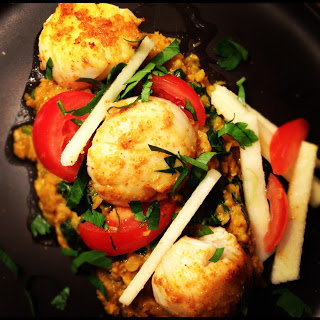 Curried scallops
12 scallops, cleaned and coral removed
4 tsp of curry powder
2 tsp of salt
2 tbsp of olive oil
Dahl
150g of red lentils, soaked overnight and drained
240ml of chicken stock
2 tsp of ground turmeric
50g of unsalted butter
1 onion, peeled and diced
2 tsp of cumin seeds
100ml of coconut milk
50g of baby spinach
1 bunch of coriander, chopped
salt
To plate
1 apple, peeled and cored
1 tomato, skin removed and diced
. In a large saucepan, heat the chicken stock over a medium heat. Add the turmeric, season with salt and add the lentils
. Bring to the boil then simmer for 15 to 20 minutes or until the lentils are tender. Strain the lentils and discard the cooking juices
. Melt the butter in a pan and sauté the onion with the cumin seeds until browned. Add the lentils, coconut milk, baby spinach and three quarters of the coriander and cook on a medium heat until heated through. Keep warm
. To cook the scallops, mix the curry powder and salt in a bowl. Dip the scallops one by one into the curry salt (one side only)
Cooking scallops tip:
The best way to tell if a scallop is cooked is to poke it. There should be a bit of bounce and resistance to it. If the scallop is mushy, it isn't fully cooked
. Knock off the excess powder by holding the scallop in one hand while tapping your wrist with the other. Place the scallops on a plate with the curry-salt-side facing up
. Add the olive oil to a hot frying pan. Place the scallops in the pan, curry-salt-side down. Cook for 1 minute each side, until golden brown
. Cut the apples into 5mm batons. Spoon the warm dahl onto four plates and arrange the scallops on top. Place the apple on top of the scallops and garnish with the remaining chopped coriander and the diced tomato.
Gone!