Frans and his assistants
Afterwards we sampled their new June menu, including the delicious cocktails created by Daniele, Ping Pong mixologist.
my dim sum, not the prettiest in town, but very tasty
Lychee & roses martini: classy exotic gin, rose petals, lemon and lychee juice and Morello cherry San Pao Tai
The menu include vegetarian, health choices and gluten free options. Let's the feast begin!
Morello cherry tai iced tea: sweet tangy with spiced berries – morello cheery puree, lemon juice and jasmine iced tea – delicious long drink, in the background crunchy vegetable and tofu spring rolls with chilli sauce
Dumplings :king prawn and coriander in steamed translucent pastry and beef with oyster sauce, cumin and chives in red beetroot pastry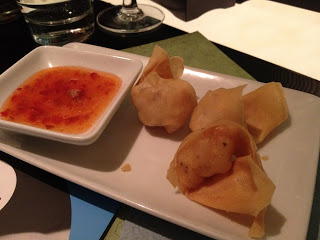 crispy prawn wonton served with sweet chilli sauce, peppery and sweet perfect starter
Lamb and Chinese dates rice pot – braised lamb with small Chinese sweet dates, garlic and mild chilli sauce on jasmine rice.
Vegetarian option
Chicken and noodle sour soup – braised chicken, lemongrass, garlic, Chinese wine broth with egg noodles, straw mushroom, broccoli and chilli – wow! what a soup! Fabulous, warming and very filling!
Vegetarian option – delicious coconut and mushroom with water chestnuts and hint of citrus topped with fried shallots so tasty!
Desert: Valrhona chocolate and coconut puree bun: fluffy white bun steamed – fantastic end of a feast!
Fantastic looking tea – Emperor's crown, a nest of green tea crowned with a vibrant red flower
cappuccino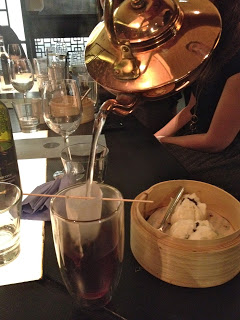 Blackcurrant & hibiscus – fresh and sweet
Open Kitchen, we could see our food being prepared
lovely bar
I had a good experience at Ping Pong, the staff was very knowledgeable and courteous,
the deco at this particular venue, in Bread Street in EC4, was very nice and clean.
Hot and Chilli was a guest of Ping Pong.