School of Wok
Main part of Chinese New Year celebrations include food and the ceremonies surround it. I remember so well when my mother-in-law used to cook different dishes and each had a meaning focused on wealth, health, prosperity and good fortune.  This year
Hong Kong Tourism B
oard
has partnered with some of the finest Chinese restaurants, in London – Ming Jiang, Grand Imperial, China Tang at the Dorchester and China Club – to offer foodies a chance to taste magnificent Chinese cuisine.
The School of Wok
, Central London, will  teach how to make a superb banquet for our own party.
Jeremy Pang – founder of School of Wok teaching us to roll wontons
 making crispy wontons
The wonton filling were prepared in advance and it consisted in a mixture of minced garlic, ginger, prawns, Chinese chives, soy sauce, sesame oil and a pinch of sugar.
    above: hand model Jeanne author of the fabulous
Cooksister
Blog folding a
lovely flower bud shaped wonton (which looks like tortellini)
THE FOLDING
1. Place 1 tbsp filling in the centre of the pastry
2. Using the tip of your finger, wet all sides of the pastry with cold water
3. Fold bottom corner over the filling to the top corner and press pastry down to seal all sides (to form a triangle)
4. Holding the base of the filling with your thumbs, pull the 2
corners of the triangle towards each other, overlap the ends and then
press together to form a 'trough' shape
5. Place aside and fold all wontons the same way. They are ready to be deep fried.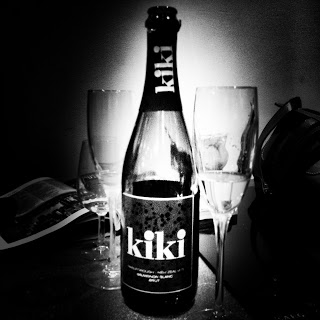 the wine  pairing of choice of A Grape Night In for the deep fried wontons  was the New Zealander sparkling Sauvignon Blanc 2010. This new bubbly is light,  fresh, clean, citrusy, notes of passion-fruit and plenty of fizz. Perfect party starter.
Wontons were fried and served with sweet chilli sauce and a tamarind sauce. The sweetness and acidic tamarind sauce that cut through the deep fried wonton perfectly.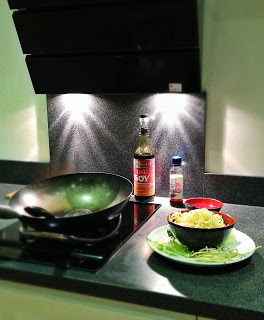 cook stations ready!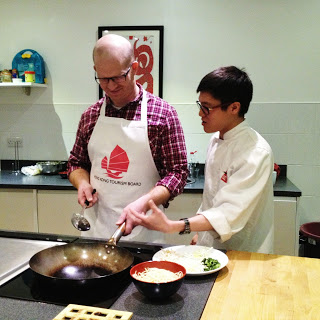 Jeremy teaching
Danny
how to use a wok properly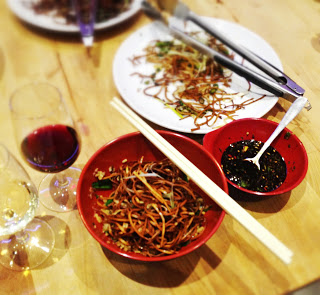 Above the final dish,
Hong Kong st
ir
-fry
, we were told a vegetarian dish served at breakfast,  with added plates of stir fried rice and matching wines.
In this particular evening
A
Grape Night In
was pairing the spicy Asian food with wine.
The wine pairings: a choice of wine and red win:
Red wine: Sepp : 2011,  Zweigel, Austria's most planted red grape and a relative new to the market. This organic and unoaked wine is medium-bodied, 12% alcohol, with gentle
tannins and a red sour cherry with black pepper-like taste and a liquorice finish. Not my choice as I don't the liquorice finish. It can be chilled at 13oC -15oC for a summertime wine.
White wine: 2012, Some Young Punks 'Monsters Monsters Attack', Riesling, Clare Valley from Australia, a fine and gentle medium bodied wine, with refreshing bursts of lime, apples and sweet peaches. 11% alcohol. Perfect pairing with the spiciness of Chinese and Asian foods. The eye catching label is a endless point of conversation.
Discover more about  Hong Kong click on Hong King Tourist Board site: HKTB
The School of Wok is hosting a series of Chinese New Year and banquets lessons. More details : here.
We also got a goodie bag which included a pair of chopsticks decorated with eight Austrian crystal symbolising splendour and good fortune. It's very Hot&Chilli bling.
Happy Chinese New Year of the snake and I am waiting for my red envelope!
'give someone a fish; they will eat for a day. teach them how to fish, they will eat for a lifetime'
Other views on the event and lovely photography:
Cherrapeno
Cooksister 
Disclaimer: I was invited to this event but was not paid to attend or write this post, all views are my own. 
Save