If we explore London Marriott Hotel County Hall further, we will learn that Gillray's Steakhouse and Bar is another fantastic venue inside this 5-star luxury London hotel. It faces the London Eye, the House of Parliament, and of course, Big Ben and the River Thames.
With entrances either on the Southbank (Queen's Walk) or from the hotel, the bar is the first room you see before reaching the restaurant. A magnificent crystal chandelier, centrally placed, is the talking point of this classy decorated venue. The cosy bar offers over 100 different gins, plenty of classic and modern cocktail choices, wines, beers, and other spirits as well. Non -alcoholic drinks are also on the menu.
The name Gillray's comes from James Gillray, who was a British caricaturist and printmaker famous for his etched political and social satires published at the end of the 18th Century. His works hang in both rooms. This very quintessential English location provides a well-fitting homage to the artist Gillray.
Gillray's is also set facing the Thames and iconic views of surrounding areas. The décor is classically English and is in keeping with the look of County Hall property. The restaurant claims to serve the best Aberdeen Angus steak sourced from English farms, so I went there to check it out! Gillray's Steakhouse and Bar at the London Marriott Hotel County Hall is a 2 AA Rosettes establishment. The Rosette is an award presented in the UK hospitality industry, in this case for culinary excellence.
Gillray's menu showcases mainly the steaks; there are plenty of cuts to choose, from starters to mains. There is even a cooking chart on the corner of the menu.
They also cater to other palates and diet requirements, and everyone is happy. They have an excellent selection of wines, but if you prefer, you can bring your own at corkage of £5 on Sundays and Mondays only. The service is super-friendly, and the wine suggestion on the night I attended was spot on!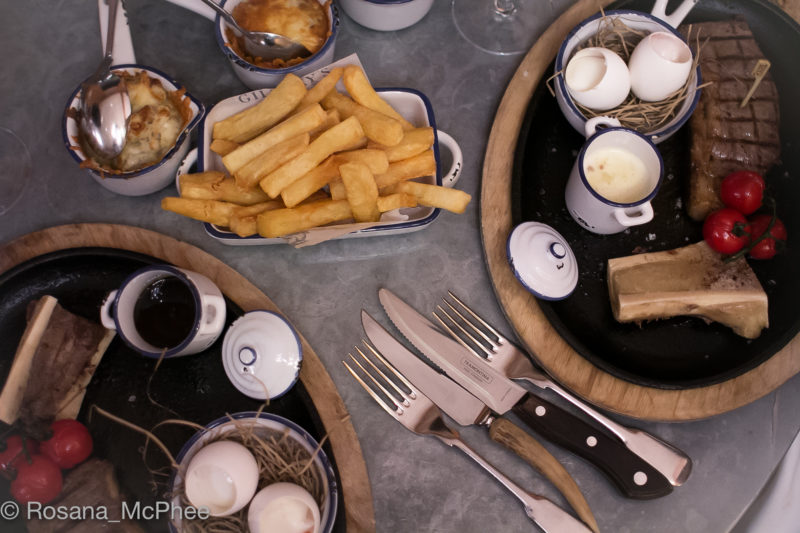 Gillray's is serving very tasty seasonal British high in quality produce and sourced from sustainable, local (where possible) and responsible suppliers. The service was fabulous and very friendly! On the table sirloin steak, of steak sourced from England and aged for 35 days, chips, lots of sides . The wine was chosen by the sommelier 🍷 The Federalist , Zinfandel from California robust, berry and lively – great match to our steaks . The sides: triple cook chips,  cauliflower & truffle bake, Dauphinioise potatoes, bonemarrow, eggs, spinach – all very well seasoned and very tasty.
Gillray's Steakhouse & Bar London
London Marriott Hotel County Hall,
Westminster Bridge Road, SE1 7PB
t: 020 7902 8000
OPENING HOURS
MONDAY TO FRIDAY
6:30AM – 10:30PM
SATURDAY & SUNDAY
7:00AM – 10:30PM
The Bar is open until midnight daily
London Marriott Hotel County Hall,
Westminster Bridge Road, SE1 7PB
t: 020 7902 8000
Disclosure: I was a guest at Gillray's Steakhouse & Bar at  the London Marriott Hotel County Hall. All views are my own.